It has been an interesting couple of years for veteran winger Patrick Marleau.  It was only a couple of summers ago where the idea of him leaving San Jose seemed rather unrealistic but after they wouldn't offer a third year on his contract, he was on his way to Toronto.  Now, with the Maple Leafs paying Carolina a first-round pick to buy out that third year, he's back on the open market once again.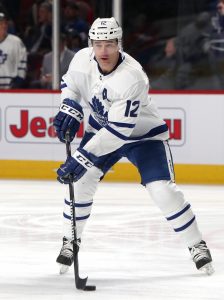 After three straight campaigns of 25 goals or more, the 39-year-old showed some signs of slowing down last season but still managed to post a respectable 16 goals and 21 assists while extending his streak of years that he played in every game to ten straight.  While 37 points isn't a great return on what was a $6.25MM cap hit, the fact that Marleau can now be signed for cheaper than that should help him garner a fair bit of interest on the open market.
Of course, Marleau's case is a little different than most.  He hasn't exactly hidden his desire to return to the West Coast and didn't appear to give a whole lot of thought towards actually playing for Carolina, something GM Don Waddell did try to talk him into doing.  Considering they made the Conference Final last season, that would have been a relatively compelling case.  As a result, his market is a lot more restricted than it is for many of the other players that are still in need of a new contract.
Potential Suitors
Let's get the obvious one out of the way first.  There's no denying that he'd like to go back to San Jose, the place he spent the first 19 years of his career.  He'd slot in nicely in a third line role with the capability to move up from time to time when injuries arise.  However, cap space could be a bit of a concern for the Sharks; while they have roughly $4.6MM in cap room per CapFriendly, they're also still interested in retaining veteran center Joe Thornton as well.  Signing Thornton wouldn't leave a lot of room to fit Marleau in.
The Kings had trade discussions with Toronto before the draft about taking on Marleau's deal but nothing came of it.  Now with a chance to bring him in at a much cheaper price, they could circle back.  However, he may not be the best of potential trade assets as he'd likely be looking for trade protection.
Arizona, another team in the West, could also benefit from someone like Marleau as they look to add offense to a team that struggled to score last season.  They're fairly tight to the cap as it is and would have to dip into offseason LTIR for Marian Hossa if they were to sign him though.
Projected Contract
If Marleau was open to signing with more than just a handful of teams, he'd be an intriguing free agent and could land a reasonable one-year deal.  However, with such a limited market, it's safe to say he'll be signing for closer to the league minimum than what his previous deal was.  Back in June, we projected a one-year, $900K deal plus $1MM in performance bonuses when we ranked him 31st in our Top 50 UFA list.  That's still about the right contract for him as if he winds up with a cap-strapped team, the bonus structure would at least allow them to potentially defer the cap hit on those for next season.
Photo courtesy of USA Today Sports Images.