The Buffalo Sabres and Chicago Blackhawks have pulled off a whopper of a trade, swapping Alexander Nylander for Henri Jokiharju. Both players are still on their entry-level contracts for another two seasons.
For Buffalo, the acquisition of Jokiharju continues an overhaul of their blue line. The team has now acquired Brandon Montour, Colin Millar and Jokiharju over the last several months, all three of which are right-handed. This latest trade will only continue to fuel the speculation about Rasmus Ristolainen, but almost certainly means that someone will have to be moved out before long. Casey Nelson and Zach Bogosian also play that side, though perhaps it is not a guarantee that Jokiharju will start the season in the NHL.
He did play 38 games for the Blackhawks last season and held his own at the NHL level. Recording 12 points and strong possession numbers while averaging close to 19 minutes a night at the highest level, his season also included a stint in the minor leagues with the Rockford IceHogs and a trip to the World Juniors where he took home the gold medal with Finland. When the season was over, he joined the Finnish World Championship squad as one of their only players with NHL experience and was a big part of them taking home the gold medal once again.
Overall it was quite the showing for Jokiharju, though his game at times did show the warts usually associated with 19-year old defensemen. The 29th-overall pick from 2017, he'll need to find a little more consistency in his own end if he wants to really fulfill the promise he showed as a potential top-pairing player. That kind of potential is exactly what the Sabres are hoping to find, but it did cost them a pretty exceptional asset of their own.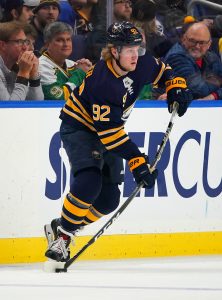 Even though Nylander hasn't quite found his footing yet at the NHL level doesn't mean he won't. Selected eighth overall in 2016, the younger brother of Toronto Maple Leafs forward William Nylander has played just 19 games for the Sabres over the last three seasons. Even in the minor leagues, Nylander's huge offensive ceiling hasn't shown up consistently enough, leading to just 86 points in 165 AHL games. That performance though doesn't tell the whole story, as Nylander has dealt with various injuries and could very well be in line for a breakout year at age-21.
Remember that this is a player who competed three times at the World Juniors, scoring 28 points in 21 games. He also won the CHL Rookie of the Year award in his only season with the OHL's Mississauga Steelheads, scoring 87 points in 63 games. His puck possession skills are excellent and he can create offense both for himself and his teammates, even if his overall game hasn't quite come together yet.
The Blackhawks have some recent history to look back on in terms of high picks finally fulfilling their potential upon arriving in Chicago. Dylan Strome was in much the same situation as Nylander when he was hopping back and forth between the minor leagues and Arizona Coyotes. Before joining the Blackhawks he had registered just 17 points in 48 games with Arizona but immediately broke out in Chiacgo to the tune of 51 in 58. That kind of offensive explosion is exactly what GM Stan Bowman will hope for once again.
Photo courtesy of USA Today Sports Images