Things didn't work out for Wayne Simmonds last season. After recording just 27 points through his first 62 games for the Philadelphia Flyers, he was flipped to the Nashville Predators at the deadline and absolutely fell off a cliff. In 17 games for the Predators, Simmonds recorded just three points and was demoted to the fourth line. He suited up for only two of the team's playoff games, meaning it came as little surprise when GM David Poile announced they would not be bringing him back. That doesn't mean there won't be interest in him as a free agent though, as Pierre LeBrun of The Athletic (subscription required) reports in his newest column.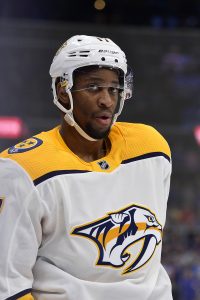 LeBrun suggests that the Montreal Canadiens and Minnesota Wild are both among "about a dozen" teams that have reached out to Simmonds and agent Eustace King, who are expected to conduct negotiations over the phone instead of visiting with teams. The 30-year old forward is coming off a six-year deal signed back in 2012 with the Philadelphia Flyers that carried an average annual value of $3.975MM and was once considered one of the biggest bargains in the league.
He could be that once again if his market is drastically reduced by his down year. Simmonds recorded between 24 and 32 goals in the six full seasons between 2011-2018, plus added 15 in the lockout-shortened 2012-13 year. That kind of consistency is exactly what every team is looking for out of a physical, net-front presence and if he can reclaim any of that ability he would be an asset to anyone. Unfortunately injuries have taken their toll on him throughout the years and it is unclear if he can ever get back to that point.
Photo courtesy of USA Today Sports Images