Topics in this edition of the mailbag include the Rangers, Detroit's offseason, offer sheets, 2019-20 playoff teams, Phil Kessel's future in Pittsburgh, what's next for Buffalo, a possible P.K. Subban trade, and what Vegas needs to go this summer.
Dylan: What moves do the Rangers make *if* they attempt to contend and if not, what do they do over the course of the offseason?
acarneglia: Do one of Ryan Callahan or J.T. Miller return to NYR as part of a salary dump? Could both?
WalterNYR: Will the Rangers trade Chris Kreider before the start of the season and if so what sort of return could they expect.
CoachWall: Despite a treasure trove of talent at defense, do the Rangers make a play for Jacob Trouba?
There were quite a few questions about the Rangers so let's group them all together to start.
If they're looking to contend, they'll be shopping at the top end of the UFA market.  Erik Karlsson and Artemi Panarin are among the players that have been speculatively linked to them already.  I could see them looking to bring back Mats Zuccarello in that situation as well.  I think making the jump would be premature at this point as players like Lias Andersson, Filip Chytil, Brett Howden, and Anthony DeAngelo are all still part of the supporting cast right now.  The Rangers will truly be ready to contend when those players are all in impact roles and for that to happen, they need more ice time.  Being restrained in free agency and letting the youngsters play more in 2019-20 would go a long way towards making that happen.
In terms of what else they made do if they opt to not try to contend next season, I can see GM Jeff Gorton trying to make a trade with Kevin Shattenkirk.  It's not working out for him in New York and a change of scenery is probably ideal for both sides.  His value is low but teams looking for firepower from the back end should be kicking the tires at least.  They'd probably be among the teams open to taking on a pricey contract from another team to add some other assets as well.
Callahan's days in Tampa Bay appear to be numbered.  Yes, he has some trade protection but at this point, he knows the writing's on the wall.  I suspect he'd be open to a return to New York where he'd have a shot to play a bit more while returning to where he had a fair bit of success early on.
I wouldn't classify Miller in the same group as Callahan, however.  He had a bit of a down year in 2018-19 but he's still a capable second liner at the very least.  While it's certainly possible that Tampa Bay could look to move him to free up cap space, they'll be looking for good, young players in return.  It's not a situation where they'll be needing to attach assets to move him, something that is likely to be the case with Callahan.  I'm not sure the Rangers are at a point where they're going to move out young players which would make a reunion with him unlikely.
As for Kreider, it all depends on whether or not he signs a contract extension this summer.  That's going to be one of Gorton's top priorities and if they get something done quickly, he'll clearly stay.  If they don't agree right away though, it's certainly possible that he gets moved before the season but I think that would only happen if a team struck out in free agency and knew they needed to make a splash.  Otherwise, they could very well take this into the season and if an extension still isn't agreed upon, then they'll look to move him as a midseason rental.  Power forwards are in high demand on the trade market and given the physicality of this postseason, he would certainly be a popular target for playoff-bound teams closer to the trade deadline.
When it comes to Trouba, a lot depends on his willingness to sign a long-term contract.  If he's amenable to doing so with the Rangers, then yes, going after him would make some sense.  However, if he just wants to go to arbitration, get his one-year award, and hit the open market in 2020, then a Trouba trade for the Rangers wouldn't make much sense at all considering that they'd be parting with young, affordable assets for a rental in a season where there's no guarantee that they'd be in playoff contention.
tigers22: Mantha for Trouba and wings select Byram with the 6th overall pick? Any chance Wings can make that happen and will they buy out Abdelkader?
If Trouba is open to signing long-term, then it's something that's worthy of some consideration.  There's no denying that Detroit desperately needs help on the back end and Mantha's cheaper salary for the upcoming season would certainly help Winnipeg's cap situation in the short term.  But if Trouba wants to go to the open market, then it wouldn't make any sense for Detroit to entertain a trade like that.  If they're parting with Mantha for a defender, it needs to be someone who can be an impact player for them on a long-term basis, much like they expect from Mantha now.
As for the second part of that, it's quite unlikely that Bowen Byram slips to the number six spot.  He's the consensus top defender in the draft and it's widely expected that he'll go either third or fourth.  If Detroit wants him, they'll have to move up.
I know Justin Abdelkader had a rough year and has a bad contract but Detroit's not in a spot where they can really benefit from the roughly $3MM they'd save in 2019-20 from buying him out.  That's not the difference between them making or missing the playoffs so why not hold onto him?  If he rebounds, then perhaps he has a bit of trade value.  If not, the buyout cost isn't quite so drastic a year from now.  Either way, it's more prudent to hold onto Abdelkader despite his struggles.
pitmanrich: Do you see any changes regarding offer sheets for RFA's? At the moment, the compensation is so high it's almost pointless as nobody will give up so many draft picks in one go.
In the short term, no changes are coming.  This is a CBA issue and we're still at least a season away from this current one expiring with the NHL having until September 1st to opt out and September 19th for the NHLPA.  If they did so, it would expire in 2020 and if not, in 2022.
I do think there will be changes down the road with regards to the linking.  It's currently tied to the average salary; whatever the increase in percentage to the average salary, the same percentage increase is applied to the offer sheet threshold.  As revenues continue to increase, the thresholds are going to go up pretty quickly.  They could tweak the wording to make it that the offer sheet rates only go up by, say, half of the percentage of the increase.  That would at least slow the rapid increase; the price point for the four first-round pick compensation has gone up by more than $2MM in this CBA already.
I'm sure the NHLPA would like to lower the compensation point at the top end and drop it from four first rounders to three.  However, that would probably require a considerable concession to do so and given how few players would actually be affected by that, it's not something I'd expect.  I think a change will come in the next CBA but it will probably more of a negligible one and not something that really affects restricted free agency all that much.
pawtucket: Which playoff teams do not make the playoffs next year? Which team that didn't make the playoffs does?
This is always tricky to predict at the best of times, let alone before seeing what actually transpires over the course of the offseason where rosters will change considerably.  Nonetheless, let's give this a go.
In the East, the easier pick to slide out right now would be Columbus due to the uncertainty surrounding their unrestricted free agents.  If they all leave, they'll probably be staring down a short-term rebuild.  I'm also skeptical that the Islanders will get the same level of goaltending they did in 2018-19 so them taking a small step back is a possibility as well.  Same with Carolina depending on what their goalie situation looks like next season with both netminders slated to hit free agency next month.  I expect the Flyers will add some pieces and get back into the postseason and if Florida does wind up being as active as it seems they will be, they'll probably get in as well.  Montreal could also get into the mix if they can another impact piece.
I don't think there will be as much movement in the West.  If Arizona can stay healthy, they could very well get back in the mix.  If Chicago makes a big splash, they could be heard from as well but it's far from a guarantee.  I have a hard time pinpointing who will come out though.  San Jose could take a step back depending on what happens in free agency but they should still be a playoff contender.  Colorado is a team that's slowly on the rise so it might not be them and I expect Dallas to make a splash in the coming weeks.  I wouldn't expect much movement in the standings in the West; the East is where there's potential for some new teams getting into the playoff picture.
Paul Heyman: Does Phil Kessel stay in Pittsburgh due to his NMC or does Pittsburgh trade him to one of the eight teams on his trade list?
I know the Penguins have put it out there that they're more than content to keep Kessel around if they can't find a trade to their liking.  But let's face it, they have to put that out there no matter what.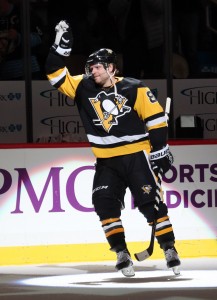 The time has come for a change of scenery.  He doesn't appear to be overly enthralled with things based on the speculation about his frustration with his role and linemates.  The coaching staff clearly isn't too pleased with his inconsistency.  Yes, he's a quality scorer, but sometimes the time is simply right for a move.  This is one of those situations.
Of the eight teams on Kessel's list, I don't think there are many who will be overly interested which could complicate things.  If the winger wants to move, he may have to expand (or revise) his list to create some other opportunities.  If you look at the production he can provide and his cap hit ($6.8MM for three more years with Toronto covering the rest), that's a better contract than you can get signing someone on the open market.  I think we'll see a trade involving Kessel come to fruition over the next few weeks.
sabres3277: When and if Buffalo signs Jeff Skinner do you think they will be active in free agency for both RFA and UFA's such as Trouba or maybe make a trade to move Ristolainen for a forward with some grit??
Now that Skinner has signed, their offseason will probably be a little quieter now.  Even after re-signing their own restricted free agents (headlined by defenseman Jake McCabe and goalie Linus Ullmark), GM Jason Botterill should have enough money left to make a splash.
However, I think they'll look to add a bit of depth on the open market and will turn to the trade market for any addition of significance.  Even after dealing a first-rounder for defenseman Brandon Montour, they still have two at their disposal and their pick from the Blues (30th or 31st overall depending on what happens over the next few days) is something that could be in play to add someone with a few years of team control.
Defenseman Rasmus Ristolainen has been speculated as a trade candidate for a while now.  However, one of the questions prospective head coaches were being asked when they were back in the interview stage was what they could do to get him back on track.  To me, that suggests that Botterill doesn't have any intentions of moving the 24-year-old so I expect him to be in Buffalo's opening night lineup in October.
@Predwin14: When can we hear about a P.K. Subban trade?
Sometime this offseason would be my prediction.  More likely, sometime later this month before teams start their spending frenzy in July.
It's not that Subban is a bad defenseman by any stretch.  He's still certainly a strong top-four defender that can hold his own on the top pairing.  There aren't many of those available so there should be a fair bit of interest despite his $9MM AAV.  It's also worth noting that he doesn't have any trade protection as the Predators elected to not assume the no-move clause that was initially in his contract when he signed it with Montreal.
However, Nashville needs to find a way to reallocate some of their spending up front where they can try to add another impact forward.  They're not dealing Ryan Ellis or Mattias Ekholm.  They're going to try to sign Roman Josi to a long-term extension over the next couple of months.  The rest of their blueliners don't make enough money to make a big difference in that regard so that pretty much leaves Subban as the likely trade candidate.  GM David Poile hasn't hesitated to take big swings before and it's likely he'll make another one in the weeks to come.
met man: What moves do you see the Golden Knights making this offseason and who might they consider for their first draft pick?
Shedding salary is going to be the name of the game for Vegas.  While David Clarkson can be placed on LTIR once again, that still doesn't give them anywhere near enough room to lock up William Karlsson to a long-term extension, re-sign Nikita Gusev, and fill out the rest of their roster.
Defenseman Colin Miller is believed to be available and clearing out his $3.875MM AAV would help to alleviate some of the cap issues.  As a right-shot defender that's signed for three more seasons, they should be able to get a pretty good return for his services.
That alone won't be enough to fit everyone in though.  Someone like Cody Eakin ($3.85MM on an expiring contract) is probably going to have to go as well.
As for their first-round pick (17th overall), it's difficult to project how the first half of the round is going to go.  There are always a few players in that range that are viewed to be falling that could easily go there.  Among players that are ranked around that pick, I'd look at wingers Arthur Kaliyev and Raphael Lavoie as well as defenseman Cam York.
Photo courtesy of USA Today Sports Images.