Topics in this edition of the mailbag include expiring draft rights, contract language, the Devils, Erik Karlsson, bad contracts in Edmonton, Detroit's pursuit of free agents, the upcoming offseason for the Kings, and a top St. Louis prospect.  As has been the case recently, the mailbag has been split into two parts so if your question doesn't appear here, watch for it next weekend.
met man: Just read an article on Trade Rumors referencing 2019 Expiring Draft Rights. Who are the players that would draw the most interest?
Given that we're mere hours from the 4:00 PM CST deadline for these players to sign, let's tackle this one first.  This isn't a particularly good class of prospects and doesn't have a standout player like last year's group did with Adam Mascherin.
With Zachary Lauzon's concussion situation likely preventing him from getting signed, the highest remaining unsigned player from that list is Scott Walford.  I'm a little surprised that the Canadiens haven't signed him.  The defenseman had a breakout year offensively on a team that had some difficulty scoring and Montreal's lack of quality depth on the left side of their back end made a deal seem rather likely on the surface.
Coyotes defender Noel Hoefenmayer had a big season with OHL Ottawa and had a very strong postseason as well.  He's someone that I figured would have signed or been dealt by now.  Pavel Koltygin (a Nashville center) had a strong postseason that could get him on the radar.  Liam Hawel (Dallas) is a big center that showed some offensive touch this past season and size down the middle is something that many teams will still take a chance on.
This all said, there probably isn't going to much trade activity in the hours leading up to the deadline.  Most teams know by now which players aren't getting signed and the fact that a conditional late-round pick hasn't been dealt for some of these players yet is a sign that they have questions about these players as well.  A couple could get redrafted but the likeliest outcome is that the group above are getting tryout deals for rookie camps after the draft comes and goes.
Mark Black: Given the recent Kuznetsov situation, what is the NHL and NHLPA's stance on morality clauses in contracts? Thinking back to the disputed termination of Mike Richards' contract and even further back in baseball with Denny Neagle and the Rockies, do teams carry clauses that allow them to terminate contracts for conduct unbecoming? Highly unlikely that this happens with Kuznetsov, regardless if it's present in his contract or not, but just curious about those clauses – whether they are boilerplate, incredibly secretive, or only in the contracts of some players.
There is a boilerplate morality clause in a Standard Player Contract.  From Exhibit 1 of the CBA:
2. The Player agrees to give his services and to play hockey in all NHL Games, All Star Games, International Hockey Games and Exhibition Games to the best of his ability under the direction and control of the Club in accordance with the provisions hereof.

The Player further agrees,

(e) to conduct himself on and off the rink according to the highest standards of honesty, morality, fair play and sportsmanship, and to refrain from conduct detrimental to the best interest of the Club, the League or professional hockey generally.
This clause is word for word from the 1997 CBA so it's not something they've looked at for a long time.
The NHL has issued a statement clearing Kuznetsov of any wrongdoing so there won't be any attempt to terminate his contract or anything like that.  The NHLPA would be highly unlikely to agree to reword that clause to include a provision for contract termination for a particularly egregious breach nor would they encourage their players to agree to any sort of addendum therein.  That's something that would inevitably go through an arbitrator on a case-by-case basis which is probably the preference of the league and the NHLPA at this point.
mikenowo1: Thoughts on what the Devils will do this offseason? Any offer sheets for cap-stripped teams like Toronto and Winnipeg?
jamincito: Do the Devils get someone significant in free agency and who?
Let's tackle the two New Jersey questions together.  They have had a tough time attracting free agents in recent years and after the season they just had, it's hard to see that changing, at least at the top end of the UFA pool.  Adding secondary scoring is something they should be able to do via the open market at least and with the extra cap space they have compared to a lot of teams, the Devils should be able to pay the extra money to make their offer stand out amongst the rest.
I expect them to be more active on the trade route though.  If there's a big-name player made available, they'll probably be kicking the tires.  I'm sure they've inquired about Phil Kessel at the very least.  Adding another premier talent would certainly aid their efforts to re-sign Taylor Hall to a long-term extension this summer or at the very least give them another piece to build around if they ultimately have to move the winger out.
Offer sheets sound wonderful in theory but they rarely come to fruition.  (That said, if there was ever a year for one, this would be it, albeit not with the players at the top of the class.)   New Jersey is in good shape to take advantage of cap-strapped teams but that will probably be in the form of adding assets to take on a bad contract.  The contenders that are against the Upper Limit won't want to give up top-end talent to get out from under the cap.  Instead, they'll be trying to peddle secondary pieces so that's where the expectations should be placed.
Connorsoxfan: Is Erik Karlsson to Tampa considered a serious possibility, or just fun to speculate about because of their ability to manage the cap in order to make things happen?
It all comes down to his friendship with Lightning blueliner Victor Hedman.  If Karlsson really wants to play there and is willing to take less than market value to do so, then it could happen.
While Ryan Callahan is the near-surefire bet to be on the move at some point to create cap space for Brayden Point's next contract, there are other players in that price range that could also be traded if need be.  J.T. Miller ($5.25MM through 2022-23), Tyler Johnson ($5MM through 2023-24), and Alex Killorn ($4.45MM through 2022-23) are all capable secondary scorers that would carry some reasonable trade value.  Move out a couple of those for players still on their entry-level deals and all of a sudden, they'll have enough money freed up where it could become a possibility.
I certainly wouldn't put Tampa Bay as the prohibitive favorite to land him though.  Even if they did free up the extra money to sign him, they'd be in a situation where a significant portion of their team would have to be on contracts below $1MM to fill out their roster.  As Chicago has shown in recent years, it can be done but it's extremely difficult to make it work and it would greatly restrict their ability to make in-season moves.
pitmanrich: How big a risk is signing Karlsson to a 7-year deal at probably 10-11mil a year? Yes, he's an elite player but injuries are starting to occur more frequently. Also, where does he end up? Rumours of the Rangers interest but they already got plenty d-men on big contracts even if their play is not earning them.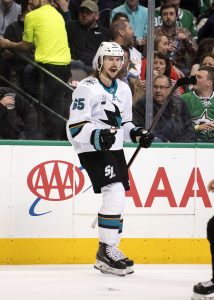 I think there's pretty much always a risk with a max-term contract.  Way more of those contracts don't work out well with unrestricted free agents than those that do.  In Karlsson's case, the risk is even higher considering the recurring injuries but there will still be teams lining up to sign him on July 1st if he makes it to the open market.  Blueliners with his skillset rarely become available and it's even rarer that the acquisition cost would 'only' be dollars and not other players, prospects, and draft picks.  Even though whoever signs him could believe that the final few years could be rough, if they think he's a piece to help them win now, they'll do it and not think twice about it.
In previous mailbags, I've stated my belief that New York would be better off not jumping back into the upper echelon of free agency just yet and going one more with the youngsters getting prime ice time.  But most of that youth is up front, not on the back end.  Yes, the Rangers have some pricey underperformers in Marc Staal, Kevin Shattenkirk, and Brendan Smith.  Fortunately, they each only have two years left and because of all of the entry-level contracts they have on the books, they could afford to add Karlsson and those others on the books and still be comfortably under the cap.
Zack35: Can Milan Lucic, Andrej Sekera or Kris Russell's contracts be dealt?
Any contract can be dealt…as long as the team is willing to take on a comparably bad (or worse) contract in return.  That's the situation Oilers GM Ken Holland faces with Lucic.  About the only way that he gets dealt is if they take a really bad contract in return.  I honestly think he's capable of rebounding somewhat from a rough 2018-19 campaign but other teams won't be giving up value merely based on hope.
Sekera's an interesting case.  Because of his injuries the last two seasons, there are legitimate concerns that he can once again become the consistent top-four defender that he has been in the past.  But he looked pretty good at the World Championships last month so Edmonton has to hold out some hope that he can still get back to that level.  They wouldn't get great value for him so I think their inclination will be to keep Sekera with the belief that he'll get closer to the level he played at when he first joined the team.
Russell continues to be one of the more polarizing blueliners in the league.  He's a great shot-blocker but teams get a lot of shots towards the goal when he's on the ice.  But he can play on both sides and only has two years left at $4MM per year.  That's a bit expensive for someone that's ideally on a third pairing but it's not too much of a premium to scare everyone off.  If they want to move him, I think they can get some decent value in return, perhaps a middle-six winger to help them up front.
@jamara23732: With Steve Yzerman on board as @DetroitRedWings GM will free agents want to come here?
Yzerman has a solid reputation as a general manager but so too did Holland who is one of the more well-respected executives in the league.  Most players aren't signing with teams because of who the GM is.  What has hurt Detroit in recent years is that they've had very limited money to spend on the open market.  It's impossible to attract top players if you don't have the cap space to actually pay them.
It also doesn't help that Detroit isn't well-positioned to contend anytime soon.  They're a team that's still in the midst of a rebuild and don't project to be among the playoff-bound teams next season as things currently stand.  The hope is that Yzerman will be able to rectify that down the road but don't expect his hire to pay immediate dividends in terms of attracting unrestricted free agents.
Winter in Colorado: Do you think the LA Kings will be able to make significant changes this summer or will it be the same OLD group next season?
I don't expect to see a lot of changes in Los Angeles this summer.  This may seem a little odd considering the year they just had but I don't think they should be looking to make significant changes either.
Don't get me wrong, I know they're in a rebuild but of the players that could conceivably be dealt, who has high trade value at the moment?  Jonathan Quick is coming off the worst year of his career.  You can make a case that the case is the case for Jeff Carter.  It was certainly a disastrous season for Dion Phaneuf and Ilya Kovalchuk being made a scratch to allow for additional practice time was kind of bewildering.  The Kings would be selling low on all of these players and that's rarely a good practice for a rebuilding team.
Alec Martinez could go and would yield a nice return, especially with it being a weak free agent market.  I think they'd sell low on Phaneuf but that's because he's no longer a core player.  The other three are though.  They're better served hoping that they'll rebound under Todd McLellan and restore some trade value.  That would change the timing of their big moves to partway through next season and not this summer.
ThePriceWasRight: With rumours that the Leafs and Kings discussed Marleau, odds a trade happens and what could be the framework? Also, could you see Lou using his defensive surplus by getting involved and agreeing to take on Marleau and rights to Kapanen or Johnsson for a d-man?
Patrick Marleau to the Kings makes some sense on the surface from his no-trade perspective.  There probably aren't many teams he'd be willing to waive his no-move clause for.  He could be amenable to returning to California but the Ducks don't have much cap space and the Sharks have too many others to re-sign.  That leaves Los Angeles.
However, the Kings would still want Toronto to take a sizable contract back and this is where the deal starts to make less sense.  Los Angeles doesn't really have many mid-tier deals that could be used to offset part of Marleau's $6.25MM AAV.  There's Tyler Toffoli ($4.6MM) but he wouldn't move in a trade like this.  The others in that range all have multiple years left so the Maple Leafs wouldn't want to take those players on.
I wouldn't put anything past Lou Lamoriello.  He showed last year with the Matt Martin deal that he's open to acquiring players once some of the signing bonus money is paid and they could look to get involved in that market again.  The Isles have depth on the back end that they could move but I'm not sure Toronto GM Kyle Dubas is willing to attack one of Kasperi Kapanen or Andreas Johnsson to move out the final year of Marleau's contract just yet.  (And I'm not certain that Marleau would waive his NMC to do allow such a trade.)  If we get deeper into the summer without any progress on a Marleau trade though, this type of scenario would certainly make sense.
Marc Brooks: Could the St. Louis Blues call up Klim Kostin for the Cup Final?
They actually did back in April.  He was part of their group of Black Aces that was brought up on April 22nd and while it's rare that players in that group would actually play, they at least keep to get working out with the coaching staff.
However, Jeremy Rutherford of The Athletic reported in a recent chat (subscription required) that Kostin is no longer with that group of players and has left the team.  There's no word on when exactly that happened or what the reasoning for it is but don't be expecting him to suit up the rest of the way.
Photo courtesy of USA Today Sports Images.