Saturday: While he can't get confirmation from either team, Sportsnet's Elliotte Friedman reports that the Penguins and the Arizona Coyotes are are currently working on a Kessel deal. No word on what the deal might consist of, but Arizona is one team that Kessel would be interested in playing for as he is close to Coyotes head coach Rick Tocchet, who was an assistant coach for the Penguins before taking the Arizona job.
Friday: The Pittsburgh Penguins had a trade worked out earlier this month that would have seen Phil Kessel head to the Minnesota Wild in exchange for Jason Zucker. It didn't happen because of a no-trade clause that Kessel refused to waive, something he had negotiated into his contract years ago when he first signed with the Toronto Maple Leafs. Exercising his clause to block a trade was well within his right, and it seemed to quiet things down for a while in regards to the Penguins. GM Jim Rutherford admitted that a Kessel trade this offseason was now unlikely, but that hasn't stopped reports surfacing on consecutive days that the team is still trying to unload their enigmatic star.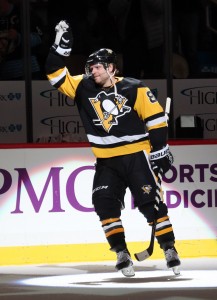 Yesterday, Josh Yohe of The Athletic (subscription required) reported that trade talks for the Penguins were "heating up" though it wasn't clear exactly what Rutherford was trying to accomplish, other than dealing Kessel while making the team younger and faster. Today, another detailed piece was released by Rob Rossi of The Athletic that examines exactly what has gone wrong in Pittsburgh between Kessel and the organization and how the star player is currently holding the rest of their offseason "hostage." Rossi quotes multiple sources that feel a Kessel trade was priority number one this offseason, in order to accomplish a sort of culture reset in Pittsburgh.
The 31-year old Kessel has three years remaining on his current contract and carries a $6.8MM cap hit thanks to a portion being retained by the Maple Leafs from an earlier trade. The deal owes him even less in actual salary, and Kessel is coming off another outstanding offensive season with 82 points in 82 games. He's also currently on an iron man streak that hasn't seen him miss a game since the 2009-10 season. Point-per-game wingers don't get traded very often, but a deal this summer would be the third time Kessel is traded in his career.
Still, there is the problem of a no-trade clause that lists just eight teams that the Penguins can send Kessel to without his permission. Players in that situation usually list teams that would have little interest or that would hesitate to deal in-division. Teams like Philadelphia, Washington, Toronto and Boston all seem unlikely to get into real discussions for one reason or another, meaning his list could basically be limited to just a handful of potential destinations. With Rutherford after a "hockey trade" that brings back a player (or players) that can help the Penguins immediately, a deal might be extremely hard to find.
Photo courtesy of USA Today Sports Images