The San Jose Sharks have already done some heavy lifting this offseason, re-signing Erik Karlsson to a huge contract and dealing Justin Braun to the Philadelphia Flyers. Several more deals took place on the second day of the draft to get San Jose the picks and prospects they were after, but there is plenty more work to be done in the coming days. Timo Meier's next contract may be the most important, but Joe Pavelski will be the focus for many fans that don't want to see their captain walk out the door after an incredible playoff performance.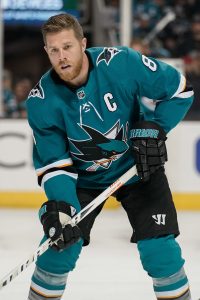 Pierre LeBrun of The Athletic (subscription required) reports that Pavelski and agent Dan Plante have several visits set up with potential teams this week in the unrestricted free agent interview period. While none of those teams are confirmed, LeBrun suggests that the Dallas Stars and Tampa Bay Lightning may bring Pavelski in for a meeting, while the Buffalo Sabres called but do not have a visit scheduled. Craig Morgan of The Athletic also indicated the Arizona Coyotes' interest in his latest piece.
It's not hard to understand why teams would be calling on the veteran forward. Even at 34 Pavelski was a dominant player once again for the Sharks, recording 38 goals and 64 points in 75 games before a playoffs that saw him return from several major injuries. The heart and soul forward is one of the most well respected leaders in the league and now has 100 points in 134 career playoff games including 12 game-winning goals. While he doesn't have any individual trophies, Pavelski has long been a Selke candidate as one of the best defensive forwards in the game and is one of the best net-front players in the league.
Obviously the Stars, Lightning, Sabres and Coyotes won't be the only teams interested, but a return to San Jose is still possible. GM Doug Wilson watched career-Shark Patrick Marleau chase a third year two summers ago, and will have a similar tough decision to make on Pavelski, who will surely draw multi-year offers even at his age. The team doesn't have a ton of cap space to throw around given the need to re-sign Meier and Kevin Labanc, not to mention Joe Thornton and Gustav Nyquist who are also unrestricted free agents.
Photo courtesy of USA Today Sports Images