Free agency is now less than a month away from opening up and there are quite a few prominent players set to hit the open market while many teams have key restricted free agents to re-sign.  For the most part, New Jersey only has depth players to deal with this summer with the exception of one core defender.  Here's a closer look at their free agent situation.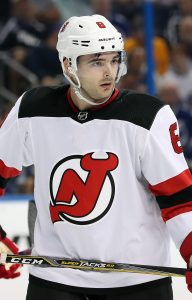 Key Restricted Free Agents: D Will Butcher – His sophomore NHL season saw him take a bit of a step back offensively but he is still one of their most dangerous threats from the back end.  His minutes weren't as sheltered in 2018-19 as he jumped up to over 19 minutes a night which will certainly look favorable to an arbitrator.  His defensive struggles will limit his overall upside in terms of a new contract but he'll nonetheless be in line for a significant raise over his $925K base salary on his rookie deal.  With two of their top four defensemen now a year away from UFA eligibility, it's likely that New Jersey will try to get Butcher locked up to a long-term contract.
F Pavel Zacha – The struggles continued for the 2015 sixth-overall pick who wound up with his first career stint in the minors when things really started to go off the rails.  To his credit, Zacha did play better upon his return and while he equalled his output from the year before, he managed to do so in eight fewer games.  At this point, him living up to his draft billing doesn't appear to be likely but he could still be part of New Jersey's plans in a lesser role.  A short-term bridge contract is a near-certainty and is one that could also be a make-or-break pact for his time with the Devils.
D Connor Carrick – After being a depth defender with Toronto that was headed for the waiver wire, the Stars picked him up in a trade where he proceeded to play a similar role with them.  He was included in the trade that saw the Stars pick up pending UFA Ben Lovejoy and Carrick was given the opportunity to play more minutes than he had at any other time, logging over 19 minutes a night with his new team.  His showing there could be enough to give him a qualifying offer which checks in at $1.3MM.  He's also eligible for salary arbitration.
Other RFAs: F Brandon Baddock, D Josh Jacobs, G Cam Johnson, D Mirco Mueller, D Ryan Murphy, F Stefan Noesen, F John Quenneville
Key Unrestricted Free Agent: F Kenny Agostino – The 27-year-old had a career year in 2018-19, establishing himself as a capable NHL winger in the process.  He made a strong impression early on when he was with Montreal and after the Devils picked him up on waivers midseason, he was handed a fair bit of time in the top six and responded well with 13 points in 27 games.  That should be enough to land him a one-way contract at the very least and teams that are looking for some cheap winger depth with a bit of offensive upside may have some interest in Agostino, who also happens to be New Jersey's top UFA this summer.
Other UFAs: F Kurtis Gabriel, G Eddie Lack, F Nick Lappin, F Blake Pietila, F Drew Stafford, F Eric Tangradi
Projected Cap Space: With just over $47.3MM committed for next season per CapFriendly, the Devils are going to have some spending to do to make it to the cap floor, let alone the Upper Limit.  They've tried to go after notable free agents in the past so it's likely they'll try to do so again, not only to try to help entice Taylor Hall to sign an extension but to also give them some security if he does leave a year from now.  If that doesn't come to fruition, there's a good chance they could opt to use some of that space to take on a bad contract in exchange for some other assets in the weeks to come.
Photo courtesy of USA Today Sports Images.