The Toronto Maple Leafs are working to find Nikita Zaitsev a "fresh start" according to Elliotte Friedman of Sportsnet, who reports the defensemen is available for trade. Zaitsev has five years remaining on the seven-year contract he signed in 2017, and carries a $4.5MM cap hit. Dan Milstein of Gold Star Hockey, Zaitsev's agent, told Lance Hornby of the Toronto Sun that he would not comment publicly on the matter, though Bob McKenzie of TSN tweets that it was the player who asked for the team to try and trade him. McKenzie notes the request was for "personal reasons."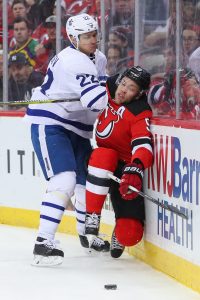 It's been a tumultuous few years since Zaitsev signed his long-term deal. After scoring 36 points as a rookie in 2016-17, he was taken completely off of the powerplay and given a hefty defensive workload as one of head coach Mike Babcock's most trusted penalty killers. Instead of thriving in that role, Zaitsev unfortunately suffered a broken foot that cost him a quarter of the season and his offensive output dropped to just 13 points in 60 games. This season, still in a defensive role, Zaitsev's offensive production dropped even further to register just 14 points in 81 games. That included a stretch of 22 straight contests where he was held scoreless, despite averaging more than twenty minutes of ice time over that stretch.
Still, there were signs that he might turn things around going forward. A late season and playoff pairing with Jake Muzzin appeared to work well, though the right-handed Zaitsev was held under 18 minutes in four of the seven games against the Boston Bruins.
The idea that Toronto would be looking to shed Zaitsev is likely not entirely based on his play however. The Maple Leafs are desperate for cap room, given their upcoming summer in which they have to sign Mitch Marner, Kasperi Kapanen and Andreas Johnsson, and that $4.5MM cap hit is an easy target. Zaitsev still may hold some value on the open market as an experienced right-handed defenseman who has played in all situations, but the real benefit of moving him for Toronto would be to open up some room for their young forwards. That would come with the cost of depleting their already razor thin depth on the right side, but GM Kyle Dubas may have a plan to fill those spots internally.
In terms of Zaitsev's landing spot, there may be teams around the league who believe he can be more than he showed over the last two seasons. The 27-year old was actually a relatively offensive defenseman during his days in the KHL, and is an excellent skater. If those offensive numbers can bounce back to the level they reached in 2016-17, $4.5MM isn't a problem, even if it is for five more years.
Photo courtesy of USA Today Sports Images