While the playoffs are well underway, many teams have already started their offseason planning.  What storylines lie ahead around the league in what is shaping up to be a likely busy NHL offseason?  Next up in our Offseason Keys series is a look at the Vancouver Canucks.
Vancouver entered the season with hopes of making some progress in their path back to playoff contention.  They improved on their 2017-18 performance by eight points despite a lengthy list of injuries while Elias Pettersson had a Calder-worthy year and the Canucks now have a strong one-two punch down the middle with him and Bo Horvat.  However, they were still on the outside looking in so GM Jim Benning will have a lot of work to do this summer.  Here are some of the items he needs to get accomplished.
Add Defensive Help
While a full season from Quinn Hughes and the hopeful return to health for Olli Juolevi provide some optimism for their future back end, their current defense corps isn't good enough to contend.  That was the case this past season when they had Alexander Edler, a pending unrestricted free agent, in the fold.
Edler missed 26 games due to injury and still had one of the better seasons of his career while logging a career-best 24:34 per night.  It's a weak defensive free agent market on the left side so if he becomes available, there will be competition for his services.  However, he is loyal to Vancouver and wants to stay which is cause for some optimism.  However, a no-move clause that would protect him from Seattle two years from now for expansion appears to be a sticking point.
Even if they get a deal done though, work still needs to be done.  Chris Tanev is a useful stay-at-home defender but can't stay healthy while Ben Hutton and Troy Stecher are capable two-way players but neither are full-fledged top four options at this point in time.  Hughes has plenty of upside but it will take some time for him to reach it.
Benning should be on the lookout for someone that, at the very least, can hold down a spot in the top four and bolster their ability to play defense by committee where a better third pairing can help offset lacking the top options.  However, as much as he has stated that he doesn't expect to be shopping at the top of the market, landing a top pairing player would fill a long-standing hole for this team so that's one area that he needs to make an exception for.
Deal For Boeser
There is a bumper crop of high-end players that are coming off of their entry-level deals and will be due for significant raises in the coming months.  The Canucks have one of those players in Brock Boeser although his case is slightly different than the others.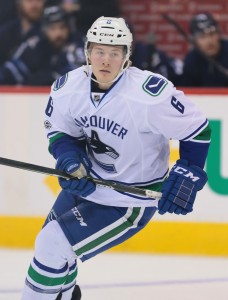 With Vancouver's willingness to sign players after the college season has ended, they're allowing players to get to restricted free agency a year earlier.  That's the case with Boeser whose rookie season wound up consisting of just nine games.  Between that and some injuries along the way over the past two years, he has just 140 career NHL regular season contests.  In other words, he doesn't even have two seasons of NHL experience under his belt while most of the other prominent RFAs have three.
As a result, he's not going to get the top money compared to some of the others on the market.  That said, his deal could be one that other agents refer to as somewhat of a precedent-setter; if Boeser gets X with basically two years of NHL experience, their client is worth a couple million more than that.  After the season, the 22-year-old's agent indicated that he's open to any type of deal, be it a bridge pact, a max-term contract, or anything in between.  While many expect some of the RFA discussions to drag out closer to training camp, this one should get done well before then.
Add A Top Six Winger
While their top two centers are set in place for several years, the situation isn't as rosy when it comes to the wings beyond Boeser.  Most of the others in place are either underachievers or young players with some upside but have several question marks as well.  Most of that group is either already signed for next season or under team control as a restricted free agent so there isn't going to be much turnover as things stand.
Given Benning's hesitance to spend big in free agency, it's likely that they'll target players that require shorter commitments.  Unfortunately for them, that's not going to move the needle very much either.  Players like that would represent a small upgrade on some of their current options but it won't provide a significant boost to an attack that finished 25th overall in 2018-19.
It wouldn't be surprising to see Vancouver turn to the trade market to try to help fill this vacancy.  In particular, finding someone in a similar age group to their young core would be ideal.  That player would also be cost-controlled which is important given the big-ticket deals that are going to be on the horizon over the next couple of years.  The Canucks have plenty of depth on the wing but at some point, it's going to need to be consolidated.  That time may very well be this offseason.
Photo courtesy of USA Today Sports Images.