With the postseason down to just two teams, many squads are now well into their offseason planning.  What storylines lie ahead around the league in what is shaping up to be a likely busy NHL offseason?  Next up in our Offseason Keys series is a look at the Montreal Canadiens.
At this point last year, Montreal was looking like they were heading into a rebuild.  They had just finished with the fourth-worst record in the league (moving up to third in the Draft Lottery) and there were all kinds of questions surrounding their roster.  They then dealt their top two goal-scoring threats in separate trades that brought back players that had underachieved considerably the year before (and in the case of Max Pacioretty, added prospect Nick Suzuki as well).  Instead, the Canadiens turned things around rather quickly and were in the thick of the playoff race until the final two days of the regular season.  Now, instead of selling off assets for younger players, GM Marc Bergevin will be looking to add pieces to help them get back into the postseason.  Here's what they need to accomplish this summer.
Add Left Side Defensive Help
With Shea Weber and Jeff Petry in the fold plus prospect Noah Juulsen being nearly NHL ready and veteran Christian Folin under contract as well, the right side of Montreal's defense is in pretty good shape.  Not a whole lot of work, if any, is going to be done there.
However, the same can't be said for their left side.  Over there, their depth consists of largely unproven players, fringe players looking to hold onto a roster spot, and Karl Alzner, whose contract was buried in the minors early in the season and still has three years remaining.  The recently re-signed Brett Kulak and Victor Mete are Montreal's best left-shooting options and both of them are better served as complementary players, not big-minute impact ones.
Accordingly, Bergevin will certainly be on the lookout to add a top-four, left-shot rearguard to the fold.  However, there aren't many of those in free agency; the list basically starts and ends with Jake Gardiner and Alex Edler with many expecting the latter to remain in Vancouver.  As a result, this is a void that will probably need to be filled via the trade market.  Bergevin has shown he's willing to make big moves leading up to the draft over the last couple of years and it wouldn't be surprising to see this be his top priority in the weeks to come.
Backup Goalie Decision
The decision to add Antti Niemi back in 2017-18 actually worked out relatively well for Montreal.  The choice to give him another contract based on how he performed down the stretch that season didn't have the same outcome.  His continued struggles forced Montreal to almost exclusively call upon Carey Price down the stretch and with teams realizing the benefits of not playing a goaltender over 60 games per season, asking him to play in 66 contests is far from ideal.  The team announced after the season that Niemi will not be retained so they will have to find a new backup for Price moving forward.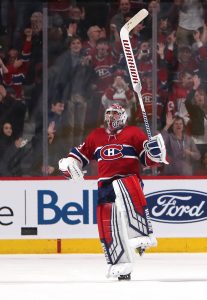 They have an internal option in Charlie Lindgren but his stock has taken a hit over the past couple of seasons.  He has posted save percentages of .886 and .884 over the last two seasons with AHL Laval, results that don't exactly scream 'NHL ready'.  On the other hand, he has had some success with Montreal when called upon in the past over his 18 NHL appearances.  He's signed for two more years with an AAV that's just above the league minimum ($750K) which is important considering Price and his $10.5MM price tag is the richest deal in league history among goaltenders.  Since they're paying that much for Price, picking a cheap option in Lindgren to back him up would certainly be justifiable although it would carry some risk.
Considering that they have considerable cap room (more on that momentarily), Bergevin could also turn to the free agent market.  There are several veteran backups that will be available that would provide some extra stability behind Price.  However, he will have to decide whether that extra security is worth paying two to three times more for that netminder than what it would cost to promote from within with Lindgren.
Utilize Their Cap Space
It wasn't that long ago that the Canadiens were a team that routinely spent to the Upper Limit but they have come up well short of that mark over the past two seasons.  They currently have just over $71MM tied up in a full 23-man roster for next season, per CapFriendly so they have the ability to spend this summer.  They'll probably use some of that on the back end and they could certainly stand to add some more offense up front as well.  If they strike out on one of those though, they're going to be right where they were the last two seasons with lots of room and not much to spend it on.
Bergevin tried to get creative last season by taking on and buying out Steve Mason's contract and picked up winger Joel Armia plus a pair of draft picks.  With several teams looking to be in tough when it comes to the cap, Montreal could try to get involved in that market to use some of their room.  However, with several core players in need of new contracts following the 2020-21 campaign, they'll be looking to only take on short-term money.  Given that they wound up just missing the playoffs this past season, it will be tough to justify being well under the cap for the third straight year so if they can't spend to add core pieces, Bergevin will have to get creative once again.
Photo courtesy of USA Today Sports Images.