While the playoffs are well underway, many teams have already started their offseason planning.  What storylines lie ahead around the league in what is shaping up to be a likely busy NHL offseason?  Next up in our Offseason Keys series is a look at the Minnesota Wild.
After being ousted in the first round for the third year in a row, Minnesota decided to make a change in GM heading into the 2018-19 season as Paul Fenton replaced Chuck Fletcher.  However, the roster stayed largely intact as the year got underway and the results were similar to what they were before as they were largely treading water.  Fenton made a couple of selling moves in the second half but the Wild were still in playoff contention heading into the final weeks of the season before ultimately coming up short.  After a quiet summer last year, it's hard to imagine it will be quiet again this time around.  Here are some of the keys to their offseason.
Pick A Direction
The Wild spent a good chunk of last season sitting in the middle.  They weren't good enough to contend but they were too far away from really bottoming out either.  An early swap of Nino Niederreiter for Victor Rask didn't move the needle too much for them.
As the trade deadline approached, word came out that ownership was open to being sellers.  Considering their place in the standings, Fenton opted to move out Mikael Granlund and Charlie Coyle in separate trades.  However, the focus in both swaps was getting back players that were ready to contribute right away in Kevin Fiala and Ryan Donato.
As a result, Minnesota is still sort of stuck in the middle.  They're not among the contenders in the Central Division but for those hoping that they'll look to rebuild through the draft, they're probably not among the weakest teams in the conference either.
The Wild have been treading water for several years now.  It's getting to be time for them to change those fortunes.  Given ownership's openness to at least retooling, it's certainly possible that they could continue what they started at the trade deadline but the focus may need to change to future assets over ones that can necessarily step in right away.  If not, expect them to be buyers and they do have some cap space to work with.  While their plan isn't known just yet, it's likely that there will be changes coming one way or the other.
Zucker's Future
Technically, Fenton had one other trade on deadline day that wound up falling through in the end.  Winger Jason Zucker was believed to be on his way to Calgary but the deal didn't materialize which made for an interesting situation as he was forced to remain with Minnesota for the stretch run.  Now that there won't be a firm deadline to get the paperwork for a trade in, do the two sides try again?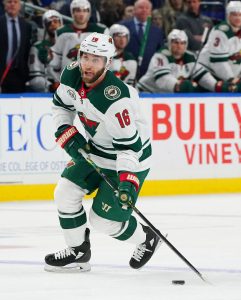 Even if that deal doesn't come back together, it's likely that Minnesota will be entertaining other trade options for him.  He didn't provide the best of returns in the first season of his five-year, $27.5MM contract as his output dipped to 21 goals and 21 assists in 2018-19.  However, he had 111 points in the previous two seasons combined so it's clear that there's some potential upside to acquiring him.
One element that could potentially expedite things is his partial no-trade clause.  Effective July 1st, Zucker can block a trade to ten teams which will lower their trade options.  Accordingly, if there is a trade to be made, it's one that will likely get done sooner rather than later.
Spurgeon Extension
Shortly after the season ended, Fenton indicated that a top priority for them this summer will be signing defenseman Jared Spurgeon to a long-term contract extension.  For his part, Spurgeon shared the enthusiasm for getting a new deal done early.
His current contract was certainly a risky one as when he signed for four years and $20.75MM, he hadn't quite established himself as a full-time top-four defender.  That changed in a hurry.  He has become one of the more consistent offensive blueliners in the league, averaging 39 points over the past three seasons while seeing his ice time jump to over 24 minutes a night.
All of a sudden, his contract is a bargain and the 29-year-old is in line to land a considerable raise on his $5.1875MM AAV.  Of course, if the team plans to retool, there's a case to be made that they're better off trading Spurgeon but it doesn't appear that will be the case.  Fortunately for the Wild, they don't have a whole lot tied up in their back end long-term beyond Ryan Suter and Matt Dumba (Jonas Brodin is signed through 2020-21) so they'll have no difficulty fitting in a raise on a lengthy pact for Spurgeon on their books moving forward.
Photo courtesy of USA Today Sports Images.