While the playoffs are well underway, many teams have already started their offseason planning.  What storylines lie ahead around the league in what is shaping up to be a likely busy NHL offseason?  Next up in our Offseason Keys series is a look at the Edmonton Oilers.
2018-19 was a season to forget in Edmonton.  Connor McDavid, Leon Draisaitl, and Ryan Nugent-Hopkins all had career years and yet they were still well out of postseason contention.  A coaching change didn't fix much and neither did relieving GM Peter Chiarelli of his duties.  Despite having a pair of elite forwards, this team still needs a lot of work.  Ken Holland is expected to take over as their new general manager and here are some of the areas he will be working on this summer.
Add Goaltending Help
Chiarelli had plenty of faith in Mikko Koskinen who showed some flashes of dominance mixed in with his general inconsistency in his first full NHL campaign.  In fact, he had enough confidence in his netminder to give him a three-year, $13.5MM extension which wound up being his final act as GM as he was fired shortly thereafter.  Koskinen got plenty of playing time down the stretch but it's clear that he's not ready to be a full-fledged number one goalie.
It was a little surprising that Anthony Stolarz, acquired in the Cam Talbot trade, didn't get much of a look after being acquired; the fact that his usage was so limited suggests that it's likely that they won't look to bring the pending Group Six free agent back.  Shane Starrett has fared well with AHL Bakersfield this season but he's only in his first year as a starter down there so bringing him up as a full-time platoon option would be risky.  Veteran Al Montoya won't be back either.
Accordingly, they'll have to look outside the organization to find a partner for Koskinen.  The challenge here will be deciding what the right price point is.  While they need someone that's capable of playing at least 30 games (and could benefit from that player pushing for the number one role), their salary cap constraints and other holes to fill may force them to look for a more affordable option.
Bring In Scoring Wingers
With McDavid, Draisaitl, and Nugent-Hopkins down the middle, the Oilers have an enviable group of centers.  However, it's the exact opposite situation when it comes to the wing.  They had one winger hit the 20-goal mark this past season and that was Alex Chiasson, who was able to earn a cheap contract and then surprisingly scored more goals than he did the previous two seasons combined.  Not many expect him to repeat his 17.9 shooting percentage if he winds up re-signing.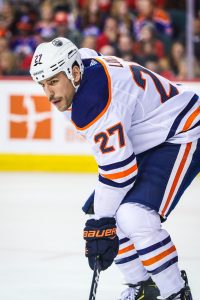 Beyond that, it wasn't too pretty.  Zack Kassian scored 15 goals but was inconsistent throughout the season.  Milan Lucic had just six tallies, not the return on a $6MM AAV they were hoping for and with a virtual buyout-proof contract that has four years left on it, no help is on the horizon there.  Youngsters Jesse Puljujarvi and Kailer Yamamoto both underachieved while Tobias Rieder, a capable winger in previous seasons, managed to go the entire year without scoring.  Drake Caggiula had the third-highest goal total among Edmonton wingers and he was dealt to Chicago back in December in a deal they'd love to have a mulligan on considering that Brandon Manning has already been buried in the minors.
While it's far too early to give up on Puljujarvi and Yamamoto, it's also going to be difficult to count on them for substantial contributions next season.  Tyler Benson had a nice rookie professional season and could be in the mix as well but it's hard to put high expectations on him.  There are teams that could stand to add a top-six winger or two.  There's a case to be made that Edmonton needs to add four of them.
Keep Reshaping The Back End
One way to overcome some shaky goaltending is to bolster the defense corps.  Edmonton has quietly built up a decent group of young defenders headlined by Evan Bouchard and Ethan Bear but they're not ready to take on big roles next season.  Andrej Sekera, if he can stay healthy this summer, could take on a larger role than he had in the back half of the campaign but given his injury troubles, counting on that happening is risky.
The Oilers have a trio of core pieces in place in Oscar Klefbom, Darnell Nurse, and Adam Larsson.  None of them are true number ones but they're capable defenders with a bit of upside.  That's a nice foundation to work with and as Bouchard and other youngsters get closer to being NHL ready, they should have a decent group to work with.  That may be a couple of years from happening though as there will be growing pains for those rookies along the way.
As for the others, Kris Russell is overpaid in his current role and could be trade bait.  Matt Benning had a limited role in 2018-19 and could also make sense as trade bait.  Neither of them will bring a top-four defenseman back but they may be able to add a winger for one of them.
Despite their poor record, Edmonton is clearly in win-now mode.  That means they'll need to add a top-four defender to give them some insurance for injuries and really bolster the group in front of Koskinen.  While there is light at the end of the tunnel for their blueline, it still needs a newcomer or two if they plan to make an impact in the Pacific Division next season.
Photo courtesy of USA Today Sports Images.