With the postseason down to just two teams, many squads are now well into their offseason planning.  What storylines lie ahead around the league in what is shaping up to be a likely busy NHL offseason?  Next up in our Offseason Keys series is a look at the Calgary Flames.
Things were looking up, for the most part, this past season for Calgary.  They made a great trade at the draft to add Noah Hanifin and Elias Lindholm.  They were the second best offensive team in the league. They had one of the better defense corps in the league.  They finished first in the West, tying Boston for the most points in the league for any team not named Tampa Bay.  And after all that, they still went down in five games in the opening round.  GM Brad Treliving made some bold moves last summer; will he need to do so again?  Here are the keys to their offseason.
Sort Out The Goaltending
Despite not having the best of goalie tandems on paper, veteran Mike Smith and youngster David Rittich had a decent year all things considered.  Both had their good moments with some bad ones but on the whole, they deserve some credit for the Flames being among the top ten teams in terms of goals allowed.
Both netminders happen to be in need of new contracts as well.  Rittich is a restricted free agent with salary arbitration eligibility and will be looking at a big raise from his $800K salary in 2018-19.  Smith, meanwhile, is an unrestricted free agent and his next deal will undoubtedly check in lower than his previous $5.67MM AAV.  It's not entirely crazy to think that the tandem could wind up around the $6.5MM mark combined for next season with the distribution between the two a lot more even.
Is that the right way to go though?  Rittich is still relatively unproven and there are still question marks as to whether or not he can be a number one goalie.  Smith is nearing the end of his career and is a stopgap measure at best.  Treliving may be better off looking to spend a little more and bring in someone that is better served to be the 1A option of a platoon to give them a bit more security at that position.  However, they'll likely need to free up some wiggle room under the salary cap to take that approach.
Tkachuk Contract
Treliving has stated that getting winger Matthew Tkachuk signed this summer is his top priority.  That should come as no surprise after the season that he just had.  After not really progressing much in his second season, he made up for that and then some in 2018-19.  He blew past his career highs in goals, assists, and points and in doing so, established himself as a legitimate top line power forward.  There aren't many of those types of players in the league.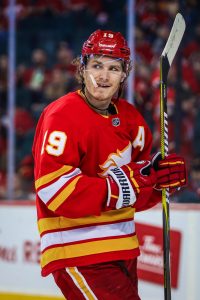 Tkachuk is among the class of high-end restricted free agents that is going to be fascinating to follow.  Their agents have suggested that they don't want their clients to be the first to sign and set the market and would rather someone else do that for them.  If Tkachuk and agent Craig Oster are also of that mindset, this could wind up being a bit of a waiting game.
Presently, the top end of Calgary's salary scale is set by winger Johnny Gaudreau and defenseman Mark Giordano at $6.75MM apiece.  It's safe to say that Tkachuk will jump past them and that the question is by how much.  With one high-end season under his belt, his earning power will be somewhat limited compared to the top RFAs available but he's still going to be breaking the bank.
Deal Defensive Depth
As the old adage goes, you can never have enough defensemen.  Calgary may very well be putting that theory to the test.  They have a very strong group of established veterans.  They also have a strong collection of emerging young talent highlighted by Juuso Valimaki and Rasmus Andersson.  Those players have made a case for more ice time but, quite frankly, they're blocked by the veterans.
The solution here isn't to trade the youngsters but perhaps it's time for them to cash in on some of that veteran depth, especially with the free agent market being thin in terms of impact options.  Clearing out the final year of Michael Stone's contract ($3.5MM) would help but after missing most of the season with a blood clot, that will be tricky.
One veteran that they shouldn't have any difficulty moving if they wanted to is T.J. Brodie.  With an expiring contract, he has been a speculative trade candidate already and as a mobile blueliner that's capable of logging over 20 minutes a night and putting up points (he has reached 30 points in six straight seasons), there would be no shortage of suitors for his services.  Travis Hamonic, also a pending UFA, would attract a lot of interest as a reliable defensive rearguard.
With all of those players being a year away from free agency and the youth in the pipeline, they're not all going to be around for the 2020-21 season.  If Treliving wants to make a splash this summer, expect it to come from dealing away some depth on the back end.
Photo courtesy of USA Today Sports Images.