While the playoffs are well underway, many teams have already started their offseason planning.  What storylines lie ahead around the league in what is shaping up to be a likely busy NHL offseason?  Next up in our Offseason Keys series is a look at the Anaheim Ducks.
Through the first half of the season, things were looking relatively good in Anaheim.   John Gibson was playing at an elite level and while sustaining it wasn't likely, the Ducks eventually had to start scoring, right?  That didn't happen.  Instead, they went into a massive tailspin, one that firing Randy Carlyle did little to solve.  As a result, GM Bob Murray will have a lot on his plate this summer.  Here are some of the things they need to accomplish.
Hire A Head Coach
After Murray took over midseason for Carlyle, he made it clear that he had no intention of sticking around in the role on a long-term basis.  Accordingly, Anaheim is in the market for a new head coach.  It has been speculated that Dallas Eakins, the bench boss for their AHL affiliate in San Diego, is a contender for the position and the fact that the Gulls are still in the playoffs will likely drag out this search.
In the meantime, Murray needs to decide if he wants an inexperienced coach (Eakins only has 113 games of head coaching experience in the NHL) or a veteran.  While there are young players with promise in the system, this is still a veteran-laden team with a desire to win in the short-term.  From that standpoint, a more experienced coach makes some sense.
However, there aren't a lot of experienced head coaches on the market at the moment; Philadephia hired two of the ones that were available to be assistants earlier this week.  Dave Tippett, an advisor in Seattle, is the most prominent option but the list is pretty short after that though Todd Richards could be in the mix.
There are some intriguing first-time options available though.  Sheldon Keefe (Toronto) has been suggested as a candidate for several spots over the past couple of years and while he signed an extension recently, it does contain an NHL out clause.  Mike Vellucci (Carolina) has had two straight strong seasons at the AHL level and has a lengthy background at the junior level as well.  Brad Shaw (Columbus) is in the mix for Ottawa's head coach position and has 13 years of coaching experience at the NHL level which could get him some consideration here.
Given that shaking up the core of the roster is going to be difficult (more on that shortly), finding the right coach could very well be their most important move this offseason.  It looks like it's going to be a while yet before it's made.
Free Up Cap Space
The Ducks have nearly $73MM tied up in just 16 players for next season per CapFriendly and even though the potential exists for Ryan Kesler ($6.875MM) and Patrick Eaves ($3.15MM) to be headed for LTIR given the question marks surrounding their ability to play again, there still isn't a lot of flexibility for Murray to work with.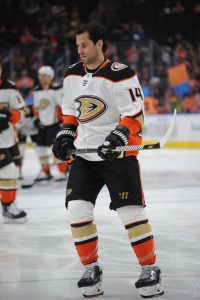 One player that's going to likely see his name come up in trade discussions is center Adam Henrique.  His new five-year contract with a $5.825MM AAV and a partial no-trade clause comes into effect on July 1st and his first full season with the Ducks wasn't great.  He didn't have as much of an impact offensively and may be better served in a third line role than on a second unit.  If that's the best role for him in Anaheim, they're going to be overpaying him considerably and given some of the bloated contracts on their books (in particular, Corey Perry and Ryan Getzlaf have two more years left at $8.625MM and $8.25MM respectively), Henrique may be one of the more movable ones.
Given the offensive struggles that existed all season, there is clearly a need to shake up the forward group.  To do that, at least one big contract will need to be on the move in the weeks to come.  There is help coming from their prospect pool but those players are a year or two away still from really locking down a top-six role so while one or two may get a chance, that alone can't be the shakeup in itself.
Add An Impact Defenseman
Considering that they've spent the last couple of years dealing impact defenders away in Sami Vatanen, Shea Theodore, and Brandon Montour, this may seem a little strange on the surface.  However, beyond a solid top three in Cam Fowler, Hampus Lindholm, and Josh Manson, there are a lot of question marks.
Between Brendan Guhle, Jacob Larsson, and Josh Mahura, there are quality young players in the mix that should be regular NHL players as soon as next season.  However, their NHL ice time has been restricted thus far to limited roles on the bottom pairing.  If no changes are made to their back end, one of those three is going from a split NHL/AHL season to a full-time spot in the top four.  While one of those players should be able to step into that void down the road, it would be risky to count on them to jump in just yet.
The good news for the Ducks is that with that group nearing readiness for full-time NHL duty, they don't have to shop at the top end of the market.  A short-term veteran stop gap is really all they need and if they do wind up moving out one of their pricier forwards, it wouldn't be surprising to see them target this type of player in return.  That would certainly solidify the defense, provide a nice bridge to the younger core, and if things go off the rails again, then that blueliner would make for an intriguing trade chip closer to the trade deadline.
Photo courtesy of USA Today Sports Images.