Today at an afternoon press conference, the Edmonton Oilers  made official what has been rumored for the last several weeks. Dave Tippett will be the team's next head coach, agreeing three-year deal. With new GM Ken Holland recently taking over the front office, the Oilers have completely changed their management group since the end of the season and will now try to navigate the sinking ship back to land.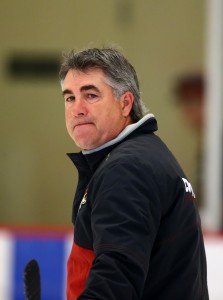 Tippett, 57, had been working with the Seattle expansion franchise but will now take his talents to Edmonton and try to coax the best out of a Connor McDavid-led group. The Oilers have been one of the most disappointing organizations in the league the last several years, continually getting high draft picks only to keep floundering near the bottom of the league standings. McDavid has made the playoffs just once since entering the league in 2015, despite being a Ted Lindsay award winner twice already—and perhaps thrice after the 116-point season he just recorded.
Holland and the Oilers management will hope they can turn that around, though they have a big task on their hands. The team must find a way to shed some dead weight financially, and bring in more effective depth players to help McDavid and Leon Draisaitl up front. Tippett meanwhile will try to get the best out of the group that remains, including finding some defensive consistency from talented-but-frustrating players like Adam Larsson and Oscar Klefbom. While the veteran coach is well regarded around the league, he doesn't necessarily have the greatest track record in the NHL.
Through 14 years as an NHL head coach, Tippett has amassed a record of 553-413-28-120, but hasn't achieved much success in the playoffs. In his last stop in Arizona things fell apart during his last few years, with the team posting just a .415 winning percentage from 2014-17. In fact the last five seasons of Tippett's career in Arizona the Coyotes failed to make the playoffs at all, something he'll be asked to change immediately in Edmonton.
The Oilers can't afford to waste any more of McDavid's prime years outside of the playoffs, given the immense advantage he gives the team at the moment. McDavid is signed for another seven years in Edmonton, but the expectation from owner Daryl Katz is that the team should be competitive in 2019-20 and not need to contemplate a rebuild. Holland understands that too, meaning Tippett isn't coming in just to build a long-term program but a contender in year one.
Photo courtesy of USA Today Sports Images