The Toronto Maple Leafs cleaned out their lockers today and held their final media availability of the season after losing their first round series against the Boston Bruins on Tuesday night. The team has now been ousted in the first round for three straight years and some tough questions are going to raised about how they can improve in the future while still paying top dollar for players like John Tavares and Auston Matthews. Another one of their expensive forwards will soon be Mitch Marner, who is heading into a contract negotiation this summer as a restricted free agent for the first time. GM Kyle Dubas today called the Marner contract "priority one" when speaking with reporters including Jonas Siegel of The Athletic, noting that he is going to do everything possible to try and get it done before July 1st.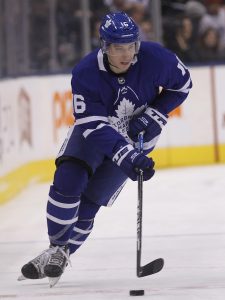 That is when Marner's current deal would officially end, and potentially when he could sign an offer sheet with another team to drive his price up. It also is when the Maple Leafs could start their unrestricted free agent shopping if there is any to do, something that would be extremely difficult without knowing how much Marner will cost next season. Toronto is set to be one of the teams closest to the salary cap ceiling next year given their expensive core, and could very well need to move out some contracts to make room for Marner and the other restricted free agents—a group that includes Kasperi Kapanen and Andreas Johnsson.
The team went through a disastrous negotiation with William Nylander last year that resulted in him missing a good chunk of season, something that Dubas and his front office will avoid at all costs this time around. Nylander never really did get his game back after sitting out for so long, and finished with just seven goals and 27 points in 54 games.
Already committed to around $75MM for next season, the Maple Leafs will also likely not be able to afford to bring back Jake Gardiner. The veteran defenseman has played his entire professional career for the Maple Leafs organization after a trade brought his rights over from the Anaheim Ducks in 2011. As an unrestricted free agent Gardiner will likely draw plenty of interest from around the league despite his notoriety for turning the puck over at times (including one stark example in Tuesday's elimination game), given his status as a top point producer. Gardiner has registered at least 30 points in a season on six different occasions, including a career-high of 52 in 2017-18.
The biggest focus will be on Marner though, who just finished a 94-point season to put himself into the top echelon of forwards in the NHL. The fourth-overall pick from 2015 has 224 points in 241 regular season games and found immediate chemistry with John Tavares this year. He was also used in a penalty killing role for the Maple Leafs in the playoffs, only adding to his versatility and value in the upcoming negotiations.
Photo courtesy of USA Today Sports Images