In this edition of the mailbag, the discussion focuses on the Rangers, Erik Karlsson's future, the Blues, candidates for the GM role in Edmonton, value contracts, and who could be on the move from Chicago this summer.
acarneglia: Are the Rangers a lot closer than people think in regards to returning to relevancy? Take a look at the number of one-goal games they've played in.
CHRISJENJ: What are the Rangers offseason plans? Do you see them either signing or trading for a big-time player like Artemi Panarin?
The pain may be coming to an end sooner than later in New York if things go right.  They have a quality stable of prospects up front and between the pipes (the back end is coming along but still needs some work) and they're going to have plenty of cap space.  I expect them to try to use it on the open market and go after some top talent.  If they succeed in doing so, they'll be right back in the mix in the Metropolitan – not a contender right away but they'll be in solid shape.
If they can't land that big fish, I don't expect them to turn around and try to trade for a big-ticket player instead.  One more year on this particular track wouldn't be a terrible idea as their young forwards aren't ready for major roles just yet.  Accordingly, why spend some of their extra young assets at that time?  If you can get the player for free, great.  If not, stick to the plan and continue to develop the youngsters.  That might not necessarily have them on the playoff path for 2019-20 but they are very much back on the path to relevancy.  One way or the other, they shouldn't be near the basement next season.
kenleyfornia2: Will Erik Karlsson be one and done in San Jose?
Unless they really have concerns about his ability to stay healthy, I don't think so.  With what they gave up in quantity, it's hard to think that they were looking at him as a straight rental player.  I figured there was a good chance that they had the framework of a deal in place already and that something could have been coming once the trade deadline passed but clearly, that wasn't the case.
San Jose has shown that they can win without Karlsson if they choose to allocate more of their money up front this summer; a long-term deal for him could push their back end spending towards the $35MM mark by the time they fill out the rest of their group.  That's probably a bit too much but I still think he'll be kept and veterans like Justin Braun and Brendan Dillon will be moved over the summer to lower their spending on defense for next season.
Paul Heyman: Do the Blues try and extend Alex Pietrangelo and Brayden Schenn this offseason seeing as they are eligible for free agency next year?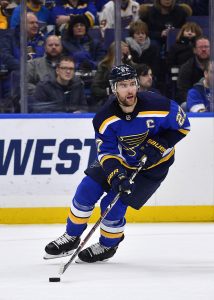 They'll certainly try.  Most teams will look to lock up their core pending unrestricted free agents as soon as they're eligible to in July.  Regardless of the situation a team is in, a top player locked up should be worth a lot more than he would be as a rental.  I expect GM Doug Armstrong will have cursory discussions with their agents leading up to the draft; even though new deals couldn't be signed until July, they can talk beforehand.
The really interesting question will be what happens if they don't sign right away?  St. Louis hasn't shied away from shaking up their core and there were trade discussions involving both players earlier this season when things weren't going well.  If Pietrangelo or Schenn (or both) show some hesitance in extending, I believe those trade discussions will resume.  We know Armstrong is comfortable taking a top player into his walk year without a new deal (such as Paul Stastny last season) but given that June is becoming the time to make bigger trades, it's not crazy to think that one of those two could be moved if an early extension isn't in the cards.
Zack35: Pretend you're Oilers CEO Bob Nicholson. Who would you hire to be GM?
If one of the candidates is capable of building a time machine that can undo some of Peter Chiarelli's deals that haven't worked out, I'd go with that one.
In all seriousness, I think this would be a good fit for Mark Hunter.  While he hasn't been a GM in the NHL before, he has four years of experience with Toronto and rose up the ranks there where he was the runner up to replace Lou Lamoriello.
However, that's not the main reason I'd give him the nod.  I like his scouting and junior backgrounds and I'm Nicholson, those areas are a priority.  Edmonton is going to be cap-strapped for a long time so the ability to identify and bring in capable, cost-controlled youngsters will be paramount to their future success (or lack thereof).  Hunter's track record of frequently finding quality young talent for OHL London helps him stand out amongst the crowd.
If Hunter isn't interested, I'd likely turn my focus to Ron Hextall.  I liked what he did in Philadelphia in terms of slowly building up a base of young talent and let's face it, that's what the Oilers need to do.  If he wasn't interested, I'd then look at Mike Futa in Los Angeles – he has a similar background in development and scouting to Hunter with more experience at the NHL level.
ThePriceWasRight: Who are your top three underpaid players (not counting rookie contracts)?
There are plenty of players in the $1MM – $4MM range that could easily qualify for this list as their level of play considerably outperforms their AAV.  Players like Andrei Vasilevskiy, Brendan Gallagher, Roman Josi, and Erik Gustafsson (who quietly is up to 50 points already) come to mind just to name a few.  Nikita Kucherov makes more than that but is vastly underpaid with his new deal only kicking in next season.  However, those other players will be in line for much richer deals in the next year or two so instead of looking at them, I'm going to focus instead on some top-end guys making mid-tier money that will be significantly underpaid for at least years to come.  To me, deals like these are the top value contracts in the league.
Dallas defenseman John Klingberg has emerged as a legitimate number one defenseman in the NHL.  He's in the top-15 in the league in ice time per game and points per game by a blueliner (among qualifying players).  Players like this are getting over $8MM per year minimum on recently-signed contracts but Klingberg will only cost the Stars $4.25MM for three more years after this one.  A number one blueliner making number four money is a huge bargain for them.
Toronto's Morgan Rielly is also in a similar situation.  He's their undisputed top defender and is among the top point producers among NHL blueliners.  Brent Burns, the lone player ahead of him is at $8MM per year.  Erik Karlsson is close to him in terms of points per game and he's widely expected to surpass the $10MM per year mark this summer.  John Carlson is also narrowly behind Rielly and also carries an $8MM cap hit.  Meanwhile, Rielly sits at $5MM for three more years after this one.  He'd be making a whole lot more if he was hitting free agency anytime soon.
Flyers center Sean Couturier looked like he'd be their second center of the future and signed a contract that was commensurate with that type of role.  Since then, he has emerged as a legitimate top liner and is on pace for his second straight season with at least 30 goals and 70 points while logging a little over 22 minutes a night.  There was talk earlier this season that discussions for an extension for Matt Duchene – likely the top UFA center available – was in the $8.5MM-plus range.  Couturier checks in at basically half of that ($4.333MM) for three years left after that one.
In terms of cost per point, these three aren't among the leaders in that regard.  However, they're all players that are significantly underpaid relative to their peers around the league and will be in that situation for quite a while yet.
@Jents71: What major Blackhawks piece is going to be traded away in the summer?
I don't see GM Stan Bowman making any major subtractions to his roster this offseason.  In fact, I think they'll be looking to add a big piece in free agency.  Panarin has been the speculative link given his previous time with Chicago but if they don't add him, they'll likely go after another big piece.  Their late-season run will likely make Bowman think that this core has one more season where they can make some noise so the goal will be adding instead of subtracting.
That said, one player I could see them looking to move is center Artem Anisimov.  He has been part of trade speculation for a while now but the emergence of Dylan Strome gives them someone that can legitimately step in and play behind Jonathan Toews down the middle.
With Alex DeBrincat and Strome in need of new contracts after next season, Chicago will want to free up a bit of money for those deals.  With a cap hit of $4.55MM through 2020-21, moving Anisimov would give them some funds to play with to lock up those youngsters and that type of money for a third line pivot is something the Blackhawks can't really afford.  He has a full no-move clause but it wouldn't be surprising to see Chicago ask him to waive it this offseason.
Photo courtesy of USA Today Sports Images.