The NHL playoff picture is coming into focus, and teams are fighting for the last spots and top seeds. Who will lock down their division? Who will capture a wild card berth? It's all decided in the last month of the season!
TBL vs CAR | THUR 7:00 PM/ET
WPG vs VGK | THUR 10:00 PM/ET
CHI vs COL | SAT 3:00 PM/ET
NSH vs WPG | SAT 7:00 PM/ET
CGY vs VAN | SAT 8:00 PM/ET
Stream the biggest games of the regular season on ESPN+. That's over 40 games in March, including In The Crease with Linda Cohn and Barry Melrose, plus live sports like UFC, MLS, MLB and more for only $4.99 a month or $49.99 a year.
Click here to start your free ESPN+ trial today!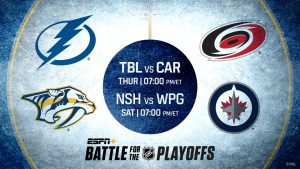 This is a sponsored post from ESPN+.