Pat Brisson, the agent for Matt Duchene was in Ottawa today meeting with Senators GM Pierre Dorion according to Darren Dreger of TSN. The meeting lasted "a few hours" according to Dreger, but apparently no decision has been made one way or the other. The Senators are working to try and come to a conclusion on a potential contract extension with Duchene in the next few days so that there will be time to figure out a trade before the deadline if necessary.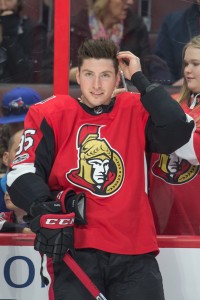 Duchene, a pending unrestricted free agent, was linked to the Winnipeg Jets again today by Frank Seravalli of TSN by saying the team has done their "due diligence" on the Senators forward (along with teammate Mark Stone and others). There will be many more teams checking in on the status of the potential trade target, given the impact he could have on a contender down the stretch. While Duchene has only played eight playoff games in his entire career, he's in the middle of his best offensive campaign and would be arguably the top center available.
Still, it's understandable that the Senators will do everything in their power to keep him around. Less than two years ago Dorion sent a huge package out the door to bring in the former Colorado Avalanche forward, and immediately explained that he wanted to keep him around long-term if possible. That was when the Senators expected to be battling for the Stanley Cup, something that quickly turned out to be a dream (or nightmare, if you'd rather). Now, with the team heading into another rebuild and very possibly saying goodbye to Stone just a few months after watching captain Erik Karlsson traded away, Duchene has his own reservations about signing long-term.
Duchene recently explained to Bruce Garrioch of Postmedia his hesitation:
I'm still trying to educate myself with what's here now and what's coming. It's hard because when you go from a team when I got here that was kind of favorite to challenge for a Cup, and probably looked at as a top six or seven team in the league, to where we're at right now.

I've been in this situation before with teams where we're kind of starting from the bottom and the biggest thing is you need a crystal ball to see how it's going to pan out. That's what I'm trying to do as much as I can but, at the end of the day, it might be something that's too hard to predict.

I see these young guys and this team is going to be outstanding at some point, but the question is, 'When?'
That question is not without an obvious answer, given the turmoil that has surrounded the Senators over the past year. Even this season the team can't get away from their mistakes of the past, as Colorado still owns their first-round pick from the Duchene deal. That very well could be the first overall selection in June's draft, given the Senators currently sit in last place in the entire NHL. That's a tough negotiating position for Dorion on the Senators front office.
Photo courtesy of USA Today Sports Images