About this time every year, rumors start to pop up regarding the top KHL players who could have NHL suitors in a few months. Today, it was reported that Toronto Maple Leafs GM Kyle Dubas is in Russia to scout some of their own players and potentially meet upcoming free agents. One of those pending free agents is Sergei Andronov, who Darren Dreger of TSN reports is a "player of interest" for the Maple Leafs and "several" other NHL clubs. Dreger notes that Andronov could command a salary of somewhere between $1.5-2.0MM next season.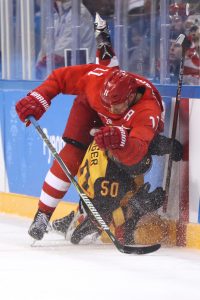 If you're a St. Louis Blues fan scratching your head wondering where you've heard the name Andronov before, it's because he was a third-round pick of the team back in 2009. He even came to North America and signed an AHL contract in 2012 to play in the minor leagues, before earning a one-year entry-level contract with the Blues. Unfortunately, that would be the end of his affiliation with that organization as he would return to the KHL and CSKA Moscow in 2014, where he has remained ever since.
Andronov doesn't bring a ton of offensive upside, but is an elite faceoff man and a capable defensive center. It makes sense that he would be drawing interest as a fourth-line and penalty killing option for an NHL team, though they'll have to convince him to leave one of the most stable organizations in the KHL. Andronov recently suited up for Russia at the Olympics and World Championships, and will be a name to watch over the next few months. Though his contract only officially runs through the end of April, Dreger notes that Andronov will only be making the (potential) move for the 2019-20 season.