The Columbus Blue Jackets have quietly put together an excellent season. The team found themselves heading into tonight's action just two points behind the Washington Capitals for first place in the Metropolitan Division and could have all the pieces in place for a Stanley Cup run. Unfortunately though, two of those important pieces are scheduled to become unrestricted free agents at the end of the season, keeping them in the rumor mill even though the team must dread parting with either.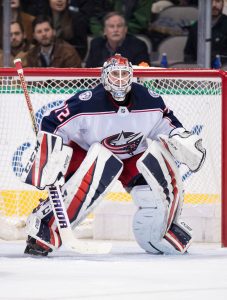 Those two are Artemi Panarin and Sergei Bobrovsky, of which the latter was recently involved in an incident that earned him the equivalent of a one-game suspension from the team. According to Aaron Portzline of The Athletic (subscription required), Bobrovsky immediately undressed and showered after getting pulled from a game earlier this month, instead of remaining available to go back in if required. That incident, though only keeping Bobrovsky away from the team for a single day, prompted many fans and media members alike to question his future in Columbus.
They weren't the only ones to question the veteran goaltender's future with the Blue Jackets, as according to Portzline's colleague Pierre LeBrun, Bobrovsky himself apparently indicated to the team that he is willing to waive his no-movement clause for the right trade destination—and he indicated that months ago.
As LeBrun notes, it does not sound like the Blue Jackets have asked him to waive it or presented him with any possible destination, and it's easy to understand why. The two-time Vezina winner is a huge part of the Blue Jackets hopes this season even if he hasn't performed up to his lofty standards to this point. Going into the playoffs as a Stanley Cup contender with Joonas Korpisalo as your starter is a tough place to be in, meaning that Columbus would need to replace Bobrovsky with someone else. At that point, unless you're getting someone with term and upside, there's not going to be a better rental option than keeping your in-house goaltender.
With just under six weeks until the NHL trade deadline, a deal for Bobrovsky still seems unlikely—even to our readership. Prime goaltenders rarely bring back their true value in-season given that contenders are usually in that position because of their strength between the pipes. Even so, we now know that the goaltender is willing to waive his clause if necessary, and that will only generate more interest if an elite goaltender goes down in the next month.
Photo courtesy of USA Today Sports Images