The Ottawa Senators season certainly hasn't gone swimmingly to this point, as after a surprisingly good start the team now find themselves in last place in the entire NHL. An abysmal 4-14-1 record on the road is a huge part of that while key injuries have played another big role. One of those injuries was to Jean-Gabriel Pageau, who ruptured his Achilles tendon while performing his fitness testing before the season. Pageau has been out the entire season so far, but today was officially activated from injured reserve and will return to the lineup when the Senators take on the Carolina Hurricanes this afternoon.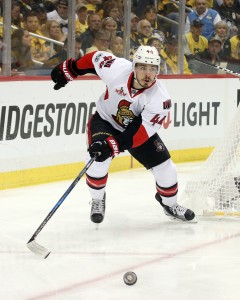 Amazingly, Pageau will return less than four months after suffering the injury in mid-September. The original prognosis was that the talented center would be out a minimum of six months, but hard work has gotten him back on the ice much earlier than expected. That's a huge boost for the Senators, as the team aren't in the "Lose for Hughes" sweepstakes this year. The Senators famously owe their first-round pick to the Colorado Avalanche, meaning there is no reason to tank for a higher draft slot.
In fact, a little success might go a long way for the organization. Not only would winning infuse some excitement into a fan base that has been repeatedly beat over the head with scandal and rumor the last year and a half, but would also generate even more value for their potential trade chips. While many are looking at Mark Stone, Matt Duchene and Ryan Dzingel as the obvious trade chips, Pageau too may find his name thrown about in the coming weeks.
The 26-year old Pageau has one more year on his contract after this season at a $3.1MM cap hit, a more than reasonable number for a center of his ability. When healthy, Pageau is a reliable two-way option in the middle of the ice that has shown a knack for big-game performances. He led the Senators with eight goals during their 2016-17 Stanley Cup playoff run, and even scored four in ten postseason games as a rookie back in 2012-13. Those kind of contributions are exactly what teams are hoping for with deadline acquisitions, and if the team decides to hold a fire sale his name will surely be asked about.
For now, it's just a celebration for Pageau as he returns to NHL action way ahead of schedule The Senators are expected to line him up between Zack Smith and Mikkel Boedker for this afternoon's game.
Photo courtesy of USA Today Sports Images