If there's one team to watch in the Eastern Conference as the trade deadline approaches, it may very well be the Detroit Red Wings. After losing six straight—some in heartbreaking fashion—they've now fallen to seventh in the Atlantic Division and are just two points out of last place in the entire NHL. With that streak it's hard to imagine they'll be able to climb back into the playoff race, meaning the focus will start to turn to the expiring assets on the roster. Of those, Detroit has many.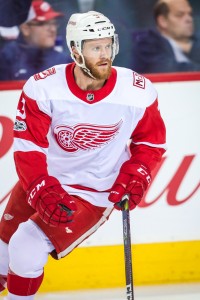 The Red Wings find themselves with six regular roster players scheduled to become unrestricted free agents this summer, and one of them is reaching new heights in his career of late. In a deep feature on defenseman Nick Jensen, Max Bultman of The Athletic (subscription required) examines how the Red Wings are giving him a bigger opportunity with several players on the shelf with injury. Notably though, the piece ends by Bultman reporting that Detroit has not discussed an extension with Jensen and notes that a trade is an obvious possibility.
In face, a trade might be the best option for a Detroit team that is obvious still in need of additional young assets to really open their competitive window. After a long history of success over the past few decades, the team now finds themselves leaderless without Nicklas Lidstrom, Pavel Datsyuk or Henrik Zetterberg to guide them towards the playoffs. Dylan Larkin looks like he'll be the next great Red Wings player—even if he isn't their All-Star representative this season—but needs help up all throughout the roster to do any real damage.
Jensen's play this season has been encouraging, especially when given more minutes and responsibility. He also represents that always elusive right-handed defenseman that teams are searching for every year. We recently examined how the rental market is relatively thin on impact defensemen this season, making a player like Jensen even more attractive. If that wasn't enough, the 28-year old comes with just an $812K cap hit this year.
There's a very real chance that the Red Wings are limited at the deadline given the no-trade clauses they've handed out like candy over the years, but that's not the case with Jensen. If the team doesn't decide to make contact and discuss a possible extension over the next month, you can bet his name will be brought up regularly in trade speculation.
Photo courtesy of USA Today Sports Images