The Dallas Stars have climbed back into playoff contention after a troubling start to the season, and will likely be one of the bubble teams looking to secure their spot by adding talent at the trade deadline. Elliotte Friedman of Sportsnet writes in his latest 31 Thoughts column that Dallas is "dangling" Mattias Janmark in addition to Valeri Nichushkin and Brett Ritchie, who had previously been linked to trade talks.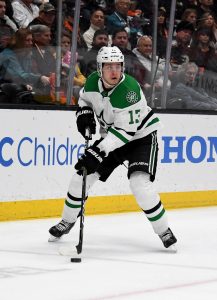 Dallas hasn't gotten enough production out of the bottom half of their lineup this season, relying heavily on the top trio of Tyler Seguin, Alexander Radulov and Jamie Benn to carry the offensive weight. The team traded Devin Shore earlier in the year to bring in a new face in Andrew Cogliano, and it now sounds like they might be considering moving some of the other disappointing names. The above mentioned trio of trade candidates have combined for just six goals and 27 points this season, with Janmark leading the way with 15 of those. The 26-year old forward was a 19-goal man a year ago, but has been snake-bitten all season and is shooting just 4.3%.
Janmark and Ritchie are both restricted free agents with arbitration rights at the end of the season while Nichushkin is under contract for another season at a $2.95MM cap hit. The latter is younger than the other two, but also has failed to score a single goal this season in his return to North American and is routinely seeing fewer than 12 minutes of ice time in recent weeks. It's hard to trade an asset in that situation, given Nichushkin is at his absolute lowest value right now.
Photo courtesy of USA Today Sports Images