As the holiday season approaches, PHR will take a look at what teams are thankful for as the season heads past the one-quarter mark. There also might be a few things your team would like down the road. Let's take a look at what's gone well in the early going and what could improve as the season rolls on for the New Jersey Devils.  Click here for the other articles in this series. 
What are the Devils most thankful for?
Rather quietly, New Jersey has built up a sizable stable of talented players under the age of 25.  Center Nico Hischier (20), the top pick back in 2017, headlines the group but winger Jesper Bratt (20) is off to a nice start to his sophomore year as well.  Centers John Quenneville (22), Pavel Zacha (21), and Michael McLeod (20) have all shown signs of upside and give the Devils strong depth at a position that's highly sought after.  Will Butcher (24) and Damon Severson (24) provide them with capable options on the back end as well.  Other than Hischier, there aren't any franchise pillars to build around but this group should provide them with quality depth (and likely at some point, some trade options) that can serve as a strong supporting cast.
Who are the Devils most thankful for?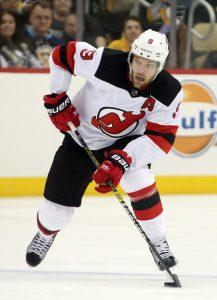 Only one team is able to say that they boast the reigning Hart Trophy winner and New Jersey is that team with Taylor Hall.  They acquired the winger back in June of 2016 from Edmonton for defenseman Adam Larsson and the swap has worked out extremely well for the Devils as he has emerged as a legitimate top line player.  There's a case to be made that he pretty much singlehandedly carried them to a playoff spot last season and while his numbers are down a little bit this year, he's still averaging over a point per game and leading the team in scoring.  They're also undoubtedly quite pleased that they're getting this level of production for $6MM per year, a salary that second liners are starting to receive with regularity.
What would the Devils be even more thankful for?
Aside from Hall signing a long-term extension next summer, New Jersey would be extremely thankful if they could get back to counting on Cory Schneider between the pipes.  This season has been nothing short of disastrous as he has posted a 4.66 GAA with a .852 SV% while dealing with multiple injury issues.  (He just went back on injured reserve today with an abdominal strain.)  Schneider still has three years left on his current deal with a $6MM cap hit and given his struggles, a trade is out of the question at this point.  He was acquired to be their franchise goalie and up until this season, he was.  Now, they have to hope he can eventually rediscover his form.
What should be on the Devils' Holiday Wish List?
Defense has been an area of need for a while and even though they've made some additions in recent years, it's still a group that could certainly benefit from another top-four addition.  Another top-six forward would also bolster an attack that has largely been quiet aside from Hall, Hischier, and winger Kyle Palmieri.  New Jersey has the cap space to make some impact additions but given where they sit in the conference, it may not be long until their focus shifts towards next season.
Photo courtesy of USA Today Sports Images.