As the holiday season approaches, PHR will take a look at what teams are thankful for as the season heads past the one-quarter mark. There also might be a few things your team would like down the road. Let's take a look at what's gone well in the early going and what could improve as the season rolls on for the Florida Panthers.  Click here for the other articles in this series. 
What are the Panthers most thankful for?
Their young core that is locked up long-term.  In Aleksander Barkov, Vincent Trocheck, and Jonathan Huberdeau, they have a trio of high-quality forwards aged 25 or younger that are all signed to below-market contracts for at least three more years.  They also have defenseman Aaron Ekblad (22) locked up for seven seasons and while his deal is a bit of an overpayment for now, it could look better a couple of years from now as he continues to improve.  These four players represent a very strong foundation for GM Dale Tallon to build around for the foreseeable future.
Who are the Panthers most thankful for?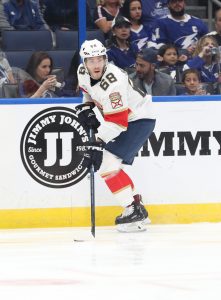 Beyond that core group, they're certainly thankful for offseason acquisition Mike Hoffman.  The winger was picked up for a collection of four draft picks (most of them of the depth variety) and he has had no issues adapting to his new team.  The 27-year-old is third on the team in scoring and is on pace for a career year offensively.  He has been particularly effective on the power play with a dozen of his 26 points coming with the man advantage.  That's quite a pickup without giving anything away from their roster and considering he has another year left on his contract with a team-friendly cap hit of just under $5.2MM, it's a deal that has worked out spectacularly thus far.
What would the Panthers be even more thankful for?
Better goaltending, plain and simple.  Roberto Luongo has been okay when healthy but staying in the lineup has proven to be a challenge.  At the age of 39, that's likely going to continue to be a concern.  They're paying big money to James Reimer to give them above average goaltending but he has struggled mightily this season, posting career-worst numbers in the process.  Florida has done a decent job scoring goals so far so getting even league average goaltending could be enough to get them going again.  They haven't had that level of play too often in 2018-19.
What should be on the Panthers' Holiday Wish List?
Given Reimer's struggles (plus those of third-stringer Michael Hutchinson), extra goaltending depth should certainly be on the list and if things don't improve, they may have to move on that sooner rather than later.  Beyond that, a top-six forward would be a helpful addition with Trocheck out long-term and would really improve their overall attack when he returns.
Photo courtesy of USA Today Sports Images.