As the holiday season approaches, PHR will take a look at what teams are thankful for as the season heads past the one-quarter mark. There also might be a few things your team would like down the road. Let's take a look at what's gone well in the early going and what could improve as the season rolls on for the Detroit Red Wings.  Click here for the other articles in this series. 
What are the Red Wings most thankful for?
Their early-season resiliency.  Detroit got off to an abysmal start as they won just once in their first ten games and looked like early contenders to finish in the league basement.  However, they have picked up 11 wins in 18 games since that time and as a result, they now sit just three points out of a playoff spot heading into play on Thursday night.  Considering they're doing this while placing some of their younger players in more prominent roles, management has to be encouraged with what they've seen as of late.
Who are the Red Wings most thankful for?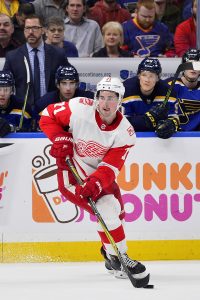 It wasn't that long ago that some of the shine had worn off center Dylan Larkin.  He had followed up a strong rookie year with a mediocre sophomore campaign which had some questioning whether or not he'd be able to become a prominent fixture on their top line.  It's safe to say those questions don't exist anymore.
After a breakout 2017-18 season that saw Larkin post 63 points, he's on pace to beat that this season if he maintains his current output.  He also is now among the league leaders in ice time among forwards, checking in at seventh overall at 21:34 per night.  On top of that, he has gone from being a below average player at the faceoff dot to one of Detroit's best threats in that regard.  The improvement has been considerable and at just 22 years of age, it's reasonable to think there could be more to come.
What would the Red Wings be even more thankful for?
More production from their veterans.  Thomas Vanek has just three goals in 20 games this year, a pace well short of his 24-goal output a year ago.  Frans Nielsen has only four goals on the season (and three of those came in a single game earlier this week against a career minor league goalie).  Justin Abdelkader also sits at just four tallies.  Combined, the trio makes $12.5MM this season.  No matter how you slice it, that's not a good return on their investment.
Beyond that, they'd be thrilled if they could find a way to keep their defense corps healthy.  No fewer than six players on their back end have missed multiple games already which has resulted in them having to call upon youngsters that aren't quite NHL ready yet and that has cost them some games in the early going.
What should be on the Red Wings' Holiday Wish List?
With all of the injuries they've had on their back end, GM Ken Holland will likely be looking to supplement their depth at that position and considering there always seems to be one or two out, that's something they may want to add sooner than later.  Up front, with their secondary scoring lacking and injuries to Anthony Mantha and Darren Helm that will keep them out for a little while yet, they may want to try to add some help in that department as well.  However, even with the usage of LTIR, their cap space is limited so the odds of them being able to get help both up front and on the blueline are low.
Photo courtesy of USA Today Sports Images.