Never one to stay quiet when he believes his clients are being shortchanged, agent Allan Walsh stepped up on Twitter last night in defense of Michael Frolik. Frolik was a healthy scratch for the Calgary Flames on Saturday night in an overtime loss to the Vancouver Canucks, something that clearly didn't please his agent. Walsh suggested that sitting Frolik only devalued him as an asset, and could potentially be a ploy by head coach Bill Peters to get rid of the veteran forward:
Many people in Calgary have been reaching out asking why Michael Frolik is a healthy scratch. Keeping one of the teams most efficient and versatile forwards in the stands marginalizes and devalues a great team player. Head coach's attempt to run a good player out of town?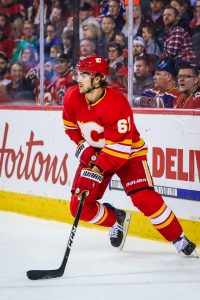 Frolik for his part was extremely professional when asked about the tweets today, indicating that he just wants to help Calgary win. Unfortunately, he hasn't been given a big opportunity to do that this season. In the games he has played outside of his injury and scratches, Frolik is averaging just 11:54 of ice time. That's easily the lowest mark of his career, and five minutes fewer than he averaged last season even as he struggled to produce offense. He finished with just 25 points in 70 games last year, but that number actually may go down this season.
Incredibly, Frolik has just seven goals on the season and has yet to record a single assist. That from a player who has recorded at least 40 points in a season five times, and is carrying a $4.3MM cap hit through next season. That's where it becomes tough for the Flames, who certainly don't want that kind of money sitting the press box watching on a regular basis. Frolik is expected to get back into the lineup tonight against the San Jose Sharks, but moving forward it's not clear if there is a real fit anymore.
The Flames added two other high profile wingers in the offseason in Elias Lindholm and James Neal, and though the latter has certainly not found his groove yet—Neal has just seven points in 38 games—the team is committed after signing him to a five-year contract. Frolik meanwhile could free up some valuable cap space if he was moved, and likely still has some value even with his depressed point production this year. The 30-year old forward is versatile enough to play various roles in an offense, and obviously has shown the ability to contribute offensively in the past.
Frolik does hold a 10-team no-trade clause, but with his agent publicly speaking out about the treatment he has received this year it may not be an issue at all for the Flames if they entertained offers. There's no indication that GM Brad Treliving is doing that, but as the deadline approaches at the end of February the Flames are going to find themselves unable to add much for the playoffs if they don't clear some cap space. Even past this year, the team is looking at a massive new contract for Matthew Tkachuk and a new deal for Sam Bennett without any substantial money coming off the books except Mike Smith's $4.25MM cap hit.
Still, it's hard to say for sure if the Flames will move Frolik in-season. There's something to say for having experienced options ready to step into a larger role if someone is injured, and Calgary doesn't want to jeopardize the good position they have put themselves in halfway through the year. The team sits in first place in the Pacific Division, but have several teams breathing down their necks to dethrone them at a moment's notice.
So do you think they will move him before the deadline? Should they even be considering it? Cast your vote below, and explain your thoughts in the comment section.
[Mobile users click here to vote.]
Photo courtesy of USA Today Sports Images