With the Kings continuing to struggle, veteran center Jeff Carter has started to come up in trade speculation lately.  While he's having a down season, he has been a strong goal scorer in the past and has had considerable success in the playoffs.  He also happens to have a manageable cap hit at just under $5.3MM, a decent rate for a proven top-six forward so there will be interest from contending teams.
There is one additional hurdle to clear when it comes to a Carter trade, however.  Although he technically does not have any form of trade protection, the breakdown of the remainder of his contract essentially works like a full no-trade clause.
Back in 2010 while still with Philadelphia, Carter signed his current deal which runs for 11 years while the salary is significantly lower in the final three years which he will reach beginning next season.  It's the type of deal that is now illegal in the CBA and can result in penalties to teams involved with them.
At the conclusion of this season, Carter will have just $7MM remaining in salary over the final three years of his contract.  He'll be 34 by then and if he doesn't like where he's dealt to, retirement could be a real option.  While the acquiring team would be absolved of any future salary cap commitments, the same can't be said for Los Angeles.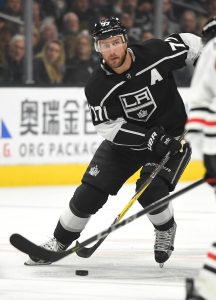 Because the Kings have benefitted from a cumulative lower cap hit relative to the actual salary paid over his time with the team, they would become subject to salary cap recapture.  If he was to retire following the season, they'd be looking at a cap hit of roughly $2.75MM (the exact annual figure is dependent on the specific date a trade would be made and when he retires while it varies considerably each year) for each of the next three seasons.  The Flyers wouldn't be subject to any of this as even though they gave him the contract, they wound up trading him before it actually kicked in so they didn't benefit from it while the Blue Jackets didn't have him long enough for recapture to be of any consequence to them either.
There have only been two players that have had salary cap recapture affect their teams and coincidentally, both have ties to the Kings.  Mike Richards was subject to recapture when they terminated his deal back in September of 2015 while Ilya Kovalchuk now plays for them (with New Jersey having a small recapture penalty on their books through 2024-25 after he 'retired' in 2013).
With all of this in mind, it's in Kings GM Rob Blake's best interest to work with Carter to find a trade destination that the veteran will be comfortable with.  That will allow them to escape the potential recapture penalties and acquire some assets in return as his trade value should be considerably high.  However, even though Carter doesn't technically have a no-trade or a no-move clause in his contract, he certainly holds a lot of the cards here.