As the holiday season approaches, PHR will take a look at what teams are thankful for as the season heads past the one-quarter mark. There also might be a few things your team would like down the road. Let's take a look at what's gone well in the early going and what could improve as the season rolls on for the Calgary Flames. 
What are the Flames most thankful for?
A high-powered attack that not many people saw coming.  Calgary has been well-known for its defensive depth and to be fair, they still have a pretty deep back end.  However, some offseason movement and a new head coach have helped the Flames boast the highest-scoring team in the Western Conference (tied with Nashville).  Considering they were in the bottom five in that department last season, this has been a very impressive turnaround and has helped lead them to first in the Pacific Division so far.
Who are the Flames most thankful for?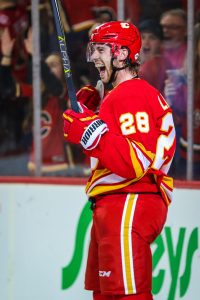 After being a player that has typically put up roughly 40 points per season, Carolina opted to part ways with Elias Lindholm and dealt him (along with Noah Hanifin) to Calgary at the draft.  The Flames thought Lindholm may still have some untapped offensive potential and so far, they've been proven right.  He is already halfway to his career-high in points with 23 through his first 24 games while leading all Calgary forwards in ice time per game.  While some viewed Hanifin as the centerpiece of the trade, Lindholm has stepped in and given their top line the fit that they've been missing in recent years.
Matthew Tkachuk has largely flown under the radar with the number one line drawing most of the attention.  However, he is tied for the team lead in scoring with 12 goals and 15 assists through 24 games.  He's setting himself up for a significant raise as a restricted free agent this summer.
What would the Flames be even more thankful for?
Mike Smith playing like the goaltender he has in the past.  The 36-year-old had a decent first year with the Flames last season but his performance this year has been rather disastrous.  He has just a .883 save percentage, a career low while ranking 47th out of 50 qualifying goaltenders.  A strong start from David Rittich has helped offset that somewhat but if Calgary wants to remain where they are in the standings, they're going to need Smith to at least get back to league average territory.
James Neal was another key acquisition over the summer, inking a five-year, $28.75MM contract but he has failed to live up to it.  He has just three goals so far in 24 games and him rediscovering his scoring touch would make their attack that much deeper.
What should be on the Flames' Holiday Wish List?
For the time being, they'll keep Smith and hope that he can eventually round back into form.  If that doesn't happen, they're going to have to venture into the trade market and try to find a replacement.  They don't have a lot of cap space to work with so they'd be wise to save what they have for now to potentially give them more options if they have to go after a goalie.  If Smith returns to form, adding a checking forward that can help on the penalty kill would be a good idea as that has been an area of concern through the first quarter of the season.
Photo courtesy of USA Today Sports Images.