It's hard to get through a day of hockey radio right now without hearing multiple takes on the ongoing negotiations between William Nylander and the Toronto Maple Leafs, but with just over 48 hours left before the December 1st deadline, there should be a conclusion of some sort very soon. The last unsigned restricted free agent must be under contract with an NHL team before 4pm on Saturday or will be forced to sit out the entire season, something that neither side can possibly hope for at this point. Still, there has been little reported about an impending deal between the two sides since Chris Johnston of Sportsnet told viewers of Hockey Night In Canada that they were "believed to be rather close" to a deal that could pay Nylander around $6.9MM on a long-term deal.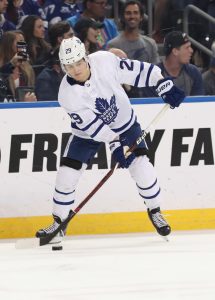 Today, with nothing bubbling up about an imminent contract, Pierre LeBrun of The Athletic reported that Toronto has circled back with interested teams and instructed them to submit a sort of final trade offer. That due diligence is required in a situation like this, in which Toronto could be left holding a valuable asset as the clock strikes a figurative midnight on Saturday. It certainly doesn't mean that Nylander will be traded in the next two days, but does perhaps lend credence to the idea that there will be a conclusion one way or the other.
For his part, Elliotte Friedman of Sportsnet believes that whether or not a trade or contract happens in the next few days, Nylander will not play for the Maple Leafs after the 2017-18 season, instead being traded by the draft even if he is under contract. It is important to remember that Nylander cannot be given a no-trade clause in negotiations until his free agent years, which would prevent him from forcing the Maple Leafs into corner over the next few months. Regardless of the length of the contract signed, the team could decide to move on from him at any point over the next several years.
That's not what the Maple Leafs are planning on doing however, if you believe head coach Mike Babcock. Today, speaking to reporters including Johnston, Babcock explained that the organization believes Nylander will be with the club for a long time:
We think Willy's going to be here and we think Willy's going to be here a long time. We think Willy's going to be a career Leaf.
According to Kristen Shilton of TSN, Babcock told people looking from the outside of the negotiations to not "confuse opinion with fact," once again reminding many that there is little known about the actual inner workings of the dialogue. The Maple Leafs have never publicly shamed Nylander for his current position, and in fact he's gotten quite a bit of support from his teammates over the first quarter of the season. The team obviously wants him back playing, but at this point nothing is certain.
Photo courtesy of USA Today Sports Images