While he isn't close to the point-per-game mark like he was with the Kings a decade ago, winger Mike Cammalleri has still been a decent secondary scorer in recent years.  Despite that, he remains unsigned more than a month into the free agent period.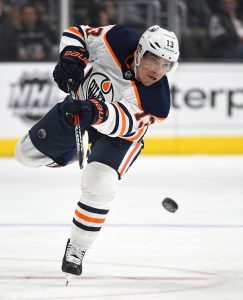 The 36-year-old signed with Los Angeles last summer after being bought out of the final two years of his deal with New Jersey.  While he was fairly productive in limited playing time (seven points in 15 games), the Kings quickly moved him to Edmonton in exchange for Jussi Jokinen in a swap of veteran wingers.  (Jokinen went on to be waived, claimed by Columbus, and then dealt to Vancouver at the trade deadline.)
Edmonton, meanwhile, got the better end of the swap.  Although he didn't light the lamp too often, Cammalleri was able to hold down a third line role and chip in on the playmaking side, notching 18 assists in 51 games.  Between the two teams, he totalled 29 points in 66 contests which wound up being decent value for a $1MM base salary.
On the downside, this was the fourth straight season that his output dipped going back to 2013-14 when he collected 45 points.  That may scare off some potential suitors as Cammalleri is slowing down and doesn't bring a whole lot defensively to the table.  Despite that, there could still be a market for the second highest point getter remaining in free agency.
Potential Suitors
There are two situations where a team could have interest in Cammalleri.  The first is a team that's right up against the salary cap that's looking to add some depth or competition for a spot at the end of the roster.  The other is a younger team that wants some insurance in case their younger talent isn't quite ready or to serve as a short-term bridge to allow a prospect some more development time in the minors.
In the first group, Minnesota makes some sense.  They've added some grit to their fourth line over the summer but those players aren't good fits to move up the lineup when injury strikes.  Cammalleri would be a better fit to do so.  If Washington wants to add a bit more offense to their depth forwards, he would be a fit there as well.  In the second group, the Senators and Rangers could stand to add a veteran buffer to hedge against some of their prospects not being quite ready for the NHL spotlight.
Projected Contract
With there being a limited group of potential suitors, Cammalleri doesn't have much in the way of leverage.  At this point, he's going to have to settle for a PTO deal or something close to the league minimum $650K in salary.  In the right situation though, the veteran could still provide a little bit of value for that contract.
Photo courtesy of USA Today Sports Images.