One of the most important restricted free agents this summer for the Winnipeg Jets was goaltender Connor Hellebuyck, who broke out last season and helped carry the team deep into the playoffs. Hellebuyck has been signed to a six-year, $37MM contract ($6.167MM AAV) that will keep him in Winnipeg through the 2023-24 season.
The 25-year old goaltender completely revamped his offseason training a year ago, and it paid off with huge dividends for the Jets in the 2017-18 season. Registering a .924 save percentage and finishing second in Vezina voting as the league's best goaltender, Hellebuyck's play changed the entire plan in net for Winnipeg going forward. Last summer they had signed Steve Mason to a two-year $8.2MM contract in order to help solidify a position that they'd struggled with for years, and still had Michael Hutchinson waiting in the minor leagues for another opportunity. Now Hutchinson is off in Florida, Mason's deal was traded and then bought out, and Hellebuyck is the goaltender of the present and the future for Winnipeg.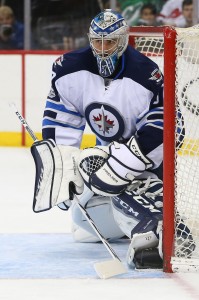 Hellebuyck's success may not come as a surprise to those who have watched him for years. Unranked among North American goaltenders heading into the 2012 draft he was selected in the fifth round by the Jets as the first of two goaltenders they picked that year—Jamie Phillips, who recently signed an AHL contract with the Charlotte Checkers followed two rounds later. Hellebuyck immediately found success at the NCAA level, posting a 20-3 record for UMass-Lowell with a .952 save percentage. Despite his outstanding season the Jets still reached for a goaltender early in the 2013 draft, selecting Eric Comrie in the second round. Hellebuyck was still raw after all, and though he had all the size needed there were some that questioned whether his ability would continue at the next level.
After another great season in college, Hellebuyck jumped to the minor league ranks and again showed that he could dominate at that level. In two seasons in the AHL, he posted .921 and .922 save percentages and forced his way onto the NHL roster. Even then he'd start quickly, posting a .932 save percentage in his first ten NHL games including a shutout against the Pittsburgh Penguins in start #9. He looked like a future star even then, though perception swung on him in 2016-17.
Hellebuyck struggled for the Jets in that season, posting a .907 in 56 games and being a big part of why the team failed to reach the postseason. He faced real inconsistency for the first time and it wasn't clear where his future was heading in Winnipeg. The Jets had never been able to find very reliable goaltending, and Hellebuyck looked like another candidate to disappoint. Not so fast though, as he bounced back and became one of the league's elite starters this past season and is now being rewarded for his work. His new contract puts him among the upper group in the NHL goaltending fraternity, though still well behind established stars like Carey Price ($10.5MM AAV) and Henrik Lundqvist ($8.5MM AAV). Sergei Bobrovsky, who already carries a $7.425MM cap hit will likely push Price as the highest paid goaltender in the league on his upcoming contract, making Hellebuyck look like an even bigger bargain if he can continue to play like he did this season.
That's the question for the Jets as they look to go deep in the playoffs once again. Without Mason or Hutchinson in the fold, the team brought in Laurent Brossoit as a potential backup for Hutchinson next year. Brossoit is not at a level where he can be expected to carry a contending team, meaning any struggles or injury from Hellebuyck would be devastating for the team. Comrie is still in the system but hasn't developed as quickly as Hellebuyck, and can't be relied upon at this point to make an impact at the NHL level.
The Jets have plenty of deals to work out as they lead the league in restricted free agents, but moving forward they should be expected to find a more stable backup for their star goaltender. Perhaps they believe Comrie or Brossoit can be that, but after investing so much in Hellebuyck with this contract they need to find some protection for him and a netminder they can reliably use to give him some rest. Hellebuyck played in 84 games (regular season and playoffs combined) last year, and may have to suit up a similar number in 2018-19.
Photo courtesy of USA Today Sports Images