Depth center options are always in need, so it's a bit of a surprise to see a fourth-line forward like Tommy Wingels remain unemployed at this point in the offseason. Teams are especially now starting to look for depth to add to their system and Wingels could find himself near the top of a list of quality veterans that teams can pick from.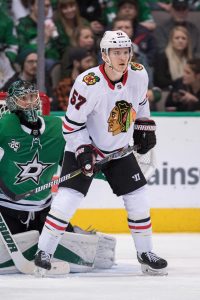 Wingels, who was a solid contributor for years with the San Jose Sharks as a bottom-six forward, signed with the Chicago Blackhawks last offseason who were in desperate need of depth. Wingels performed well, but as Chicago's season began to go south, the team instead opted to trade him, sending him to the Boston Bruins for a conditional 2019 fifth-round pick.
Wingels provides teams with that gritty edge and experience that many teams covet for their fourth line. On top of that, he has the ability to produce some offense despite his limited minutes. He posted two goals and five points in 18 games when he arrived in Boston, but failed to produce in four playoff games as he missed time after taking a hit to the head from Toronto's Nazem Kadri. Wingels is also only four years from two 30-point seasons. In all, he totaled nine goals, 17 points, 179 hits and 45 penalty minutes in 75 games, while averaging 11:29 of ATOI.
Potential Suitors
The most obvious match would be for the Bruins to bring back Wingels. While the veteran helped fill in for an injury-plagued team in their stretch run, Wingels hardly dominated and with the plethora of young talent waiting in the wings, it's hard to tell whether Boston would want to bring Wingels back. On top of that, the 2019 fifth-rounder they gave to Chicago would turn into a 2019 fourth-rounder if they brought Wingels back, although that may not be that significant if they wanted him.
While there are a number of teams that may look to add some grit to their depth, there are a few teams known to hoard depth, especially at the center position. The Nashville Predators are already deep, but there are some who believe the team might continue to look at a player like Wingels if they think they can pass him eventually through waivers.
A potential return to Chicago would also make sense as the Blackhawks, with their salary cap issues, are always in need for depth and are already familiar with Wingels. The team even has some cap room to afford a relatively cheap contract that Wingels would require.
Projected Contract
Wingels days of making big numbers are gone as he had to settle for $750K last year in Chicago and likely will sign a deal with similar numbers this offseason, which will make him a solid bargain. However, if he can't get an official contract, the veteran may have to settle for a PTO.
Photo courtesy of USA Today Sports Images.