While he was often banged up in his final few seasons in Winnipeg, defenseman Toby Enstrom has been a dependable blueliner over an 11-year NHL career.  With a return to the Jets off the table, the 33-year-old is now looking for a new team for the 2018-19 season.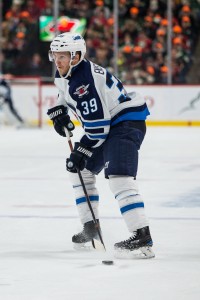 Last year, Enstrom dealt with multiple lower-body injuries and also was a scratch the odd time on a deep Jets back end.  As a result, he wound up playing in just 43 regular season contests while suiting up 11 times in the playoffs.  It was Winnipeg's decision to sit him late in the postseason that played a role in him deciding to leave even before free agency began.
Although that certainly isn't a great year with which to market himself, it should be noted that Enstrom has logged at least 20:51 per night in every season except for 2017-18.  While he is probably better suited to play closer to 18 minutes per game at this stage of his career, the fact that he can move up and take on a bigger when called upon should be appealing to some teams.
While Enstrom is long removed from his days as a 50-point player, his mobility and puck-moving skills fit in well as the league transitions to quicker, more skilled defenders.  That could still make him useful on a power play although he isn't much of a shooting threat at this stage of his career.  Enstrom isn't a top-four player anymore but he could still upgrade the third pairing on a lot of teams.
Potential Suitors
At this stage of his career, it's hard to imagine rebuilding teams looking at Enstrom and vice versa so let's just focus on teams that have playoff aspirations.
In the West, Chicago has freed up some cap space and could stand to upgrade their defensive depth which would make them a logical fit for Enstrom.  Nashville's back end is full with three players on cheap contracts but they have more than enough cap flexibility to add a one-year upgrade.  San Jose is who we originally projected Enstrom signing with as he would certainly serve as an improvement on their third pairing.  If they're unable to land a notable player via trade over the coming weeks or months, upgrading their depth by signing someone like Enstrom becomes a more feasible option.
Out East, Washington has some salary cap flexibility and could stand to use another veteran to help round out their back end.  New Jersey has been surprisingly quiet this summer and after not being able to land much in free agency, shoring up their depth makes sense as a next way to turn.  Meanwhile, Columbus lost a pair of left-shot defenders in free agency and while they have some lower-end replacements signed, Enstrom would represent an upgrade on their third pairing.
What will be interesting here is if Enstrom is willing to play a six/seven role where he is a healthy scratch at times which is what his role would be with some of these teams.  He didn't take too well to being in that spot in Winnipeg and if that's still the case now, that could limit his options.  With that in mind, returning home to play in Sweden is certainly on the table as well.
Projected Contract
Enstrom was ranked 37th on our Top 50 Free Agents listed with a projected one-year, $1.75MM contract.  That represents a significant decrease from the $5.75MM he received in each of the last five seasons but is in line with what veteran third pairing players can get on the open market.  While he has yet to sign thus far, it's hard to envision the price going much lower knowing that he can simply choose to go back home to Sweden and sign a sizable contract there.
Photo courtesy of USA Today Sports Images.