In the annual shuffle when it comes to backup goalies in free agency, Kari Lehtonen appears to be the odd man out.  While most goaltenders have found new homes, he still remains unsigned.  Here is a closer look at his situation.
To put it nicely, Lehtonen failed to live up to the five-year, $29.5MM contract extension he signed just before training camp back in 2012.  Dallas believed they were locking up a legitimate starter for that price and while he had some moments where he played like one, he had others where he played like anything but one.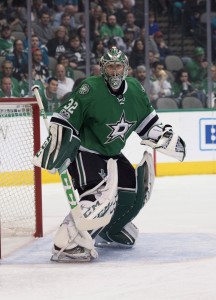 Last offseason, the Stars brought in Ben Bishop via trade to move Lehtonen back into the number two role.  While Bishop gave them an upgrade between the pipes, it was the 34-year-old Finn that was in goal down the stretch when Bishop suffered a knee injury in early March.  With Dallas in the midst of the playoff race, they were counting on Lehtonen to deliver.  Suffice it to say, that didn't happen.  He lost eight of his first nine starts in that role that pretty much took them out of the race (although he was better in his final five appearances of the season).
Not surprisingly, Dallas moved quickly in free agency to sign another backup in Anton Khudobin which forced Lehtonen to hit the open market where he currently remains today.
While Lehtonen has been miscast as a starter, he has shown that he can handle a larger workload than most backups and when he's on, he can win a few games by himself.  There is a bit of upside in signing him although his performance when he's not at the top of his game presents some risk as well.  The question at this point is who is still in need of a goalie?
Potential Suitors
With most of the goalies having already signed, there aren't a lot of vacancies left to fill.  As things stand, Washington is set to rely on Pheonix Copley, a veteran of two career NHL appearances, as their backup.  Part of the reason for doing so is his league minimum cap hit but if Lehtonen is willing to take a cheap one-year deal, he would certainly be an upgrade and provide them with some insurance behind Braden Holtby.
In our original projections, we had the Rangers as the landing spot for Lehtonen with Ondrej Pavelec hitting the market (who remains unsigned).  New York could opt to go with youngster Alexander Georgiev as the backup to Henrik Lundqvist but considering he is still on his entry-level deal and is waiver-exempt, they may want to bring in a veteran to allow Georgiev to get a bigger workload at the AHL level.
With Craig Anderson asking for a trade out of Ottawa earlier this summer, the Senators could be in the market for a second goalie but the trade would have to happen first.  Calgary could run with one of Jon Gillies or David Rittich as their backup but if they want a veteran, Lehtonen would likely be of interest.  Their salary cap situation may dictate which way they go for their number two as they still have several players to re-sign.  Given the nightmares Vegas had with goalie injuries last year, it wouldn't be entirely shocking if they brought in another goalie but that might be more of a training camp PTO than a guaranteed contract at this time.
Projected Contract
Lehtonen ranked 33rd on our Top 50 UFA list with a projected one-year, $2.5MM contract.  We had him being part of the July 1st shuffle of goaltenders and several that signed that day landed deals around that amount.  With most of those spots gone, it's highly unlikely that he will be able to come close to that deal now.  With other veterans still on the market (including Pavelec and Steve Mason), Lehtonen will now have to settle for something closer to $1MM at most if he wants to get a deal done in the next couple of months.
Photo courtesy of USA Today Sports Images.