While he isn't a big name defenseman, Alexei Emelin has quietly logged just shy of 20 minutes per game over the last six years.  There are always teams looking for players that can log big minutes on the back end but more than three weeks into free agency, he remains on the open market.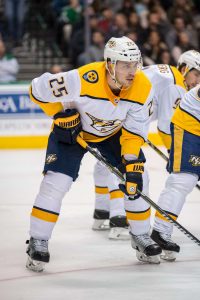 Last season was Emelin's first outside of Montreal and his role was considerably reduced with the Predators, who acquired him from Vegas shortly after the expansion draft.  After spending time on the top pairing with the Canadiens the year before, the 32-year-old was reduced to third pairing duties when Nashville's top four were all healthy.
While his playing time was lowered, Emelin still provided the physicality that he has been known for while also blocking at least 100 shots for the fifth straight season.  On top of that, he took a regular turn on the penalty kill.  As far as a stay-at-home player goes on a third pairing, he brings some value.
However, his possession numbers are typically below average and as the league trends more and more towards speed, Emelin's lack of foot speed and puck-moving skills certainly will work against him.  That will wind up limiting the number of teams that might show interest in him.
Potential Suitors
Unlike some of the other veteran defenders on the market, Emelin isn't going to be able to limit himself to potential contenders.  He may actually be better off signing with a lesser team where he might be able to get regular playing time and then potentially be flipped towards the trade deadline.
Among Eastern Conference teams, the Senators (who haven't been remotely active in free agency) feel like a fit.  They are very weak in terms of established options on the left side so there is certainly an opening that could be filled.  However, they already have a similar player in Mark Borowiecki and having two players like that on the back end could be an issue.  New Jersey could use more depth but he may be more of a seventh defender than a sixth which may not be a palatable option for him.
The options aren't more plentiful in the West either.  He'd still make some sense in Nashville but that was ruled out shortly after the playoffs.  Chicago has some roster spots to fill and Emelin could conceivably surpass Erik Gustafsson on the depth chart but they likely have their sights set higher for now.  Most of the other teams in the Western Conference either lack the cap space to add another player or are already set on the left side defensively.
If those options don't pan out, there is always the KHL.  Emelin is no stranger to that league having played parts of eight seasons there already and would likely command a nice contract to go back home.
Projected Contract
Emelin was slotted 42nd in our Top 50 UFA Rankings with a projected one-year, $2MM deal to the Rangers.  (New York instead chose to add Fredrik Claesson in free agency and since they're leaving spots for youngsters, they're probably not a great option now either.)  With there only being a handful of teams where he'd fit and other veterans still available, he's going to have to take an even bigger pay cut from the $4.4MM in salary he received last season.  A one-year deal around $1MM may be close to his ceiling for this next contract now and Emelin will have to decide if that's a better option than going back to Russia.
Photo courtesy of USA Today Sports Images.