With just two teams still playing, the rest have already started their offseason planning.  What storylines lie ahead around the league?  Our Offseason Keys series continues with a look at the Philadelphia Flyers.
2017-18 was an interesting year for the Flyers.  They once again had extreme highs and lows when it came to their streakiness, something that seems to be becoming a trend under Dave Hakstol.  They got a resurgent season from Claude Giroux and despite more issues between the pipes, gave the Penguins a good run in the first round before being ousted in six.  Now, GM Ron Hextall has some salary cap room to work with this summer which gives him a lot of flexibility to reshape his team.  Here are some things to watch for this offseason.
Extension Talks For Simmonds
Winger Wayne Simmonds has been a key cog for the Flyers over the past seven seasons.  He has become one of the top power forwards in the league and has surpassed the 20-goal mark in six of those years; the one he didn't was the lockout-shortened 2012-13 campaign.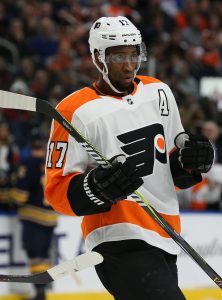 The 29-year-old will be entering the final year of his contract and will undoubtedly be seeking a significant raise on the $3.975MM AAV he has had since 2013-14.  There is always a demand for power forwards and ones with the type of offensive consistency he has are even harder to find.
However, because of that style he plays, Simmonds is also somewhat of a risk on a long-term contract.  Players like him don't tend to age well and there's a good chance he'll be battling the injury bug more frequently in years to come.  Accordingly, the last few years of a long-term deal could be a cap anchor.
There's no denying his importance in Philly and even with those risks, Hextall will likely make a run at locking him up sooner than later.  If they can't come to terms, however, he'll be an interesting trade candidate at some point next season.
Buyout Decisions
Because of their salary cap situation (more on that later), Philadelphia isn't in a situation where they'll be forced to buy out a player or two to free up some short-term flexibility.  However, they still have a couple of forwards where they should at least consider the possibility of doing so.
The change of scenery that center Jori Lehtera received as part of the Brayden Schenn trade back at the draft did not help get him going.  In fact, his play worsened and he found himself frequently on the fourth line when he wasn't in the press box.  With another year left on his deal at $4.7MM, he would normally be almost a no-brainer to be bought out but at least for now, it doesn't sound like they'll go that way.  Yes, they could replace his eight points in 62 games with a cheaper option but the $1.67MM cap hit in 2019-20 that would be there in a buyout may deter them from doing so.  A trade with retention may be something they wind up exploring.
In his first two seasons with Philly, winger Dale Weise has not produced anywhere close to the level he did with Montreal.  He was brought in to be an energetic third-line winger that could chip in with double-digit goals but that hasn't happened.  He has also been a frequent scratch and has largely been confined to fourth line ice time.  He still has two years remaining on his deal at a $2.35MM cap charge which is pricey for someone in that role.  Again, the 2019-20 charge ($1.28MM) may act as a bit of a deterrent although the price in the other three seasons (2018-19, 2020-21, and 2021-22) would be more manageable at just over $683K.  For most teams, Weise would find himself as a prime buyout candidate this summer and the Flyers will need to decide if he is for them as well.
Spend Wisely
Lately, Philadelphia hasn't been big spenders on the open market because they've had limited room with which to work with.  That's not the case heading into this offseason as they have roughly $58MM committed to 17 players per CapFriendly without a lot of prominent players to re-sign.  Basically, they can add multiple impact players in free agency but is that the best play to make?
On top of Simmonds needing a new deal next summer, so too does defenseman Ivan Provorov.  As a number one blueliner already, he's going to get a contract that is well beyond his $894K base salary.  Winger Travis Konecny is in a similar situation.  He's not going to get the type of raise Provorov will get but it will still be significant.  Projecting a $10MM increase in payroll for these three a year from now isn't unrealistic so that will have to be kept in mind when spending this summer.  Accordingly, some of their activity in free agency and trades should probably be focused on short-term contracts.
Even with that in mind, Hextall and the Flyers have more than enough room to make a splash this summer and add at least one prominent player.  Given their prospects on the back end and the dearth of impact players in free agency, it's likely that their addition(s) will come up front.  It has been a while since they've been heard from on the open market but that won't be the case a month from now.
Photo courtesy of USA Today Sports Images.