Free agency is now less than three weeks away, and all eyes are focused on John Tavares and John Carlson as the top prizes. Behind them though is another tier of quality players, including Detroit Red Wings defenseman Mike Green. Green, a former 30-goal, 70-point player from his days in Washington, is still an effective puck-moving option even as he heads into his mid-thirties. According to Craig Custance of The Athletic (subscription required) Green has been given two offers by the Red Wings to re-sign, of both the one- and two-year variety. That might not be enough to keep him around though, as there will be plenty of interest in the free agent when the negotiation period opens a few days after the draft.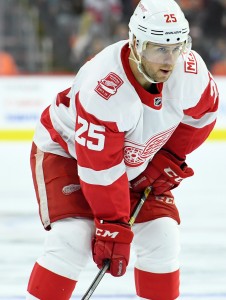 Green is coming off of a little bit of a quieter season by his standards but still a productive one as he recorded 33 points in 66 games.  However, he wasn't fully healthy heading into the trade deadline which scared off potential suitors.  While he wound up returning briefly after the deadline, he was eventually shut down for the season and underwent cervical spine surgery back in April, one that carried a recovery time of two months.
Those health issues may scare off some teams in free agency, as will his reputation in the defensive zone. While Green has made considerable strides since he was a young player, to get the most out of him still requires some sheltering. Teams that are looking to plug in a top-four defenseman that can do a little bit of everything might be a bit disappointed, though anyone in need of some offense from the blue line should be lining up to bring him aboard.
The Red Wings need both of those things, but aren't willing to commit to Green long-term as they enter a rebuild. It just doesn't make much sense to sign an aging defender to a multi-year contract when the team is likely going to—if not outright aiming for a—finish near the bottom of the league and a reset on their salary structure and core players. If Green wants the security of a few seasons, he'll have to find it elsewhere.
Photo courtesy of USA Today Sports Images