Friday: LeBrun reports that the meeting between Lindholm and the Hurricanes front office today did not go well, leaving the two sides still far apart on a contract decision. The 23-year old forward is now a real possibility according to LeBrun.
Thursday: Though most eyes are on Jeff Skinner and Justin Faulk, the player generating the most interest in Carolina is Elias Lindholm according to Pierre LeBrun of The Athletic (subscription required). LeBrun qualifies the trade speculation by saying the Hurricanes' first priority is to re-sign the restricted free agent, but that his name continues to be brought up in negotiations with other teams. Yesterday LeBrun mentioned talks between the Calgary Flames and Carolina, and today he expands on that notion saying that even Noah Hanifin and Dougie Hamilton were discussed before things went south.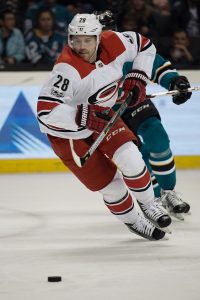 Lindholm, 23, has been an exemplary player for the Hurricanes since being drafted fifth overall in 2013, Spending time at both center and wing, he has at least 39 points in each of his four full seasons and should be in for another raise on the $2.7MM cap hit he carried the last two years. While not an elite offensive player, he continues to be a positive in the faceoff circle and a reliable two-way player capable of anchoring a middle-six group. With teams so desperate for help at center, it's no surprise that his name continues to be brought up.
While Skinner has just one season remaining on his contract and Faulk two, Lindholm is a restricted free agent this summer and could be signed to a long-term deal. There are hurdles to jump to do that though, as even his youth won't keep the price tag down on a multi-year contract. Lindholm already has five seasons under his belt in the NHL, and is scheduled to hit unrestricted free agency in the summer of 2020 at the age of 25. That means any long-term deal is buying out several free agent seasons and likely driving the price upwards. It also means that a two-year bridge deal is no longer an option, as that would take him right into the waiting arms of the open market as one of the youngest players to ever reach free agency.
Any acquiring team would have to consider this, and likely discuss the contract with Lindholm's representatives first. If they can get him signed long-term for a reasonable cap hit, he would bring back a considerable package to the Hurricanes. If not, it might not be worth it for Carolina to send out one of their more reliable young players before his 24th birthday.
Photo courtesy of USA Today Sports Images