With the buyout window opening up on Friday, teams are going to have to make some important decisions in the days to come as to whether or not it's time to cut bait with some of their underachieving players.  One of those is Calgary winger Troy Brouwer.
Two summers ago, Brouwer was one of the better power forwards available on the market.  His offensive consistency (he had scored between 17 and 25 goals in seven straight years) made him a safe bet to step in onto someone's second line and give them a bit of grit with some scoring touch.  The Flames eventually won out over several other suitors and gave him a four-year, $18MM contract, a deal that didn't seem particularly outlandish at the time.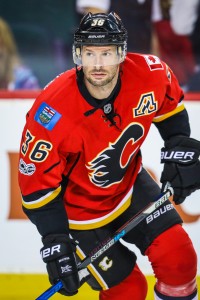 His first season in Calgary saw his output dip to 25 points but that, in theory, could have been the by-product of playing on a new team in a new system.  At least, that's what the Flames were hoping and that he could still rebound for 2017-18.  Suffice it to say, that didn't happen.
The 32-year-old struggled mightily this past season, scoring just six times in 76 games, the lowest goal total in his ten-year career.  He also spent most of his time in the bottom six which caused his ice time to dip to just under 14 minutes per game, well off the 17:30 he had averaged over the past six years.  As a result, Calgary now has a $4.5MM player that looks to be finished as a top-six winger which isn't a great spot to be in.
With two years remaining on his contract though, a buyout isn't necessarily automatic.  While that would free up $3MM on their salary cap for the next two seasons, it would also add $1.5MM for both 2020-21 and 2021-22 as they would be paying out $1.5MM for each of the next four years.  That's a tough pill to swallow for a player that they've already given $9MM to for a total of 19 goals.
The short-term savings would certainly be beneficial, however.  As things stand, Calgary has a little over $62MM committed to 15 players for 2018-19, per CapFriendly.  Adding another $3MM to their budget would allow them to be a little more active in free agency or in the trade market as they look to add some scoring help.
Over the next couple of weeks, there are some players where it seems fairly obvious that they will be bought out.  Brouwer's case is a little less certain because of the extra year remaining on his contract.  With the buyout window ending on June 30th, it seems likely that Calgary will delay making a call on this situation until late in the month but there's a pretty good chance Brouwer will be returning to free agency a lot earlier than he expected when he joined Calgary just two years ago.
Photo courtesy of USA Today Sports Images.