The Florida Panthers have signed another high profile Russian player, inking Bogdan Kiselevich to a one-year contract. This comes just a year after the team brought back Evgeni Dadonov, who ended up with 65 points for them this season. Financial details on Kiselevich's contract have not yet been released, but GM Dale Tallon released a statement on his new defenseman:
Bogdan is a solid, shutdown defenseman who adds depth to our blue line and possesses a strong work ethic. He's proven himself to be a reliable defensive presence on the international stage and in the KHL and has the ability to be a steadying influence on the back end for our young defensemen.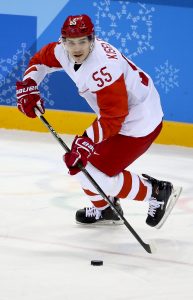 Kiselevich, 28, has been on the radar of NHL teams for some time, making his KHL debut nearly a decade ago. The defensive defenseman is a well-known shutdown option in Russia, and was recently used in that role at the Olympics. The Russians obviously won gold, though couldn't repeat the feat at the recent IIHF World Championship.
If this experiment is as successful as Dadonov's, the Panthers will be adding another impact player for a run next season. The Florida blue line already looked pretty crowded, but Kiselevich has experience playing both sides and should be versatile enough to play with nearly any type of partner. Though not known for his offense, he has had solid production in recent years playing a simple game and joining the rush when the opportunity presents itself.
Kiselevich will be an unrestricted free agent again next summer, but after waiting so long to come to North America one has to believe that the Panthers have the inside track on any future deals. Something convinced him to come to the NHL finally, and if he finds success in Florida it wouldn't surprise to see them re-sign him at some point. Remember, any extension can't be signed until the new year since he's on a one-year contract.
As Panthers' reporter Harvey Fialkov opines, this could mean trouble for Alex Petrovic, who plays a similar game and is a restricted free agent this summer. Petrovic saw his ice time reduced dramatically this season, and could be a potential trade chip for the Panthers this summer.
Either way, this signing only strengthens a Panthers team that looked ready to compete for the playoffs in the second half of last season.