At the end of the season, Ryan O'Reilly of the Buffalo Sabres was very critical of himself and the fact that he had lost some of the love he had for the game of hockey. He spoke about maybe becoming too complacent and allowing the team to be satisfied with losing. It immediately sent up alarm bells for Sabres fans, who had heard O'Reilly's name thrown around in trade rumors even before his comments.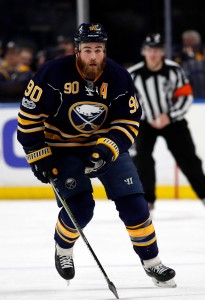 Those comments though had a similar effect. Rumors have swirled for the last few weeks around the 27-year old center, wondering if there was a break up approaching between him and Buffalo. O'Reilly did his best to put those rumors to bed recently, as he spoke with Darren Dreger of TSN:
I was being honest. When I reflect on the year, who else can I look at? I'm one of the guys who plays the most minutes, and it's my fault. I want to change. I want to be in Buffalo. I love it there. Obviously we're getting the first pick which is huge, but it's a great city and I want to be there and I want to win. 

I think I have a pretty good relationship with the GM, and you know if something happens it happens and that's hockey. But you know, I plan and am preparing to be in Buffalo. Same role, same sort of thing.
O'Reilly has five years left on his massive $52.5MM contract, but would still have some value in trade should someone approach the Sabres. The hard-nosed center led the league in won faceoffs this season, and put up 61 points even while playing with some questionable linemates at times. That's the second-highest total of his career, something he'll have to build on if he is to really turn the Sabres around next season.
Obviously, there are changes coming in Buffalo. Rasmus Dahlin is expected to be selected first-overall, but some of their other young players will need to step up. Casey Mittelstadt will likely be given a full-time role, while Brendan Guhle should earn more time with the NHL club. O'Reilly's leadership will be a key part of their development, and the overall success of the club.
Photo courtesy of USA Today Sports Images