While the playoffs are ongoing, many teams have already started their offseason planning.  What storylines lie ahead around the league?  Our Offseason Keys series continues with a look at the Calgary Flames.
After making the playoffs a year earlier, Calgary took a step back this past season.  A late-season injury to Mike Smith was costly as the team struggled down the stretch and wound up missing the playoffs as a result.  That led to a change behind the bench as Glen Gulutzan was let go with former Carolina bench boss Bill Peters takes over.  That and the departure of Brian Burke have been the big off-ice changes so far but the Flames have some key decisions to make on the ice as well.
Determine Their Backup
Eddie Lack was brought in to be the backup goaltender for Smith but that didn't last too long.  He struggled mightily at the beginning of the year and wound up being dealt to New Jersey in a swap of waived-and-buried veteran players.  That resulted in a pair of youngsters getting chances and suffice it to say, the results were mixed.
David Rittich got off to a strong start, posting a .938 SV% in his first six starts.  However, he failed to come even close to maintaining that mark the rest of the way, checking in with a .889 mark in his final 14 appearances which is well below the NHL average.  Jon Gillies saw some action when Smith went down and he was consistently inconsistent and didn't stake a claim to a full-time spot either.
Both players are set to become restricted free agents this summer and if nothing else, they should receive qualifying offers.  However, is it a prudent move to leave the number two spot open for one of them?  Or does it make more sense to add a veteran backup in a move similar to what Lack was supposed to provide this past season?  While a backup goaltender doesn't seem like a key need most of the time, that player can make a big difference, a lesson that Calgary learned the hard way in 2017-18.
Find A Top Line RW
This one has been on their radar for a while.  Three years ago, Michael Frolik was brought in and while he has shown an offensive touch at times, he's too inconsistent to hold down a spot alongside Johnny Gaudreau and Sean Monahan.  The following summer, Troy Brouwer was brought in to fill that spot.  Two years later, that $4.5MM per year contract looks like somewhat of an albatross after he scored just six times this past season.
Micheal Ferland saw some time to start the season and to his credit, he held his own relatively well despite being more of a physical energy player.  The team brought in Jaromir Jagr with the hopes that he could keep up and that simply didn't happen; he wound up being waived and loaned back to the Czech Republic.  Ferland saw a lot of time there in the second half of the year but that's still not his ideal spot to be.
Finding a legitimate scoring threat to play on that top unit would go a long way towards helping an offense that ranked 26th overall in the NHL in 2017-18.  Not only would it make that top line that much more dangerous but it would also allow their other wingers to play in roles that are better suited for them.
Decision On Bennett
Sam Bennett's third full NHL season largely resembled that of his sophomore campaign which has led to plenty of questions about his long-term upside.  The fourth overall pick in 2014 has shown flashes that he can still become an impact player but at other times, he has struggled considerably.  A change of position from center to the wing didn't do much to change his fortunes either.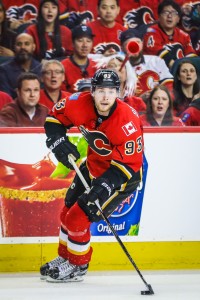 Last summer, the call Calgary needed to make was whether to give him a bridge contract or take a gamble and lock him up long-term.  They went with the short-term deal, two years with a $1.95MM cap hit and that certainly looks like the right choice at this time after he put up his second straight 26 point campaign.
This offseason, the decision that needs to be made is whether or not they still believe he is part of their long-term future.  If not, the time might be right to move him, even though his value isn't exactly at its peak.  If there's a team that believes a change of scenery is all he needs to get on track, the Flames should still be able to leverage a quality asset in return.  If they opt to hold onto him, one more year like the one he just had will only weaken his value.  On the flip side, with Peters behind the bench and a new system in place, GM Brad Treliving has to at least consider the possibility that those changes might be enough to get Bennett going in Calgary.  It's a bit of a risky decision to make either way but it's a call that they will have to make sooner than later.
Photo courtesy of USA Today Sports Images.