In a few months, some lucky team in the NHL will get the chance to sign a two-time 40-goal scorer coming off an excellent offensive season. He put up the third most points by any free agent forward despite making just $2MM this season. In his first taste of playoff action since 2015, he scored two points and helped his team to an overtime victory while playing 16:28. That team will likely get a chance to sign him to an extremely short-term deal with little risk involved. And then, going off of recent history, that team will say "no thanks" and pass.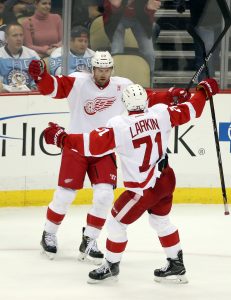 That player is Thomas Vanek, who was bought out in June of 2016 because of a $6.5MM cap hit, and has been overlooked ever since. In the summer of 2016 Vanek was coming off his 11th consecutive 40+ point season, but ended up signing a one-year deal with the Detroit Red Wings for just $2.6MM. That was only $100K more than the salary handed to each of Matt Martin and Joe Colborne, who both signed for at least two seasons. It substantially shorter and cheaper than the deal Jamie McGinn signed, he of 167 career points and exactly zero 40+ point seasons (a mark he still has failed to eclipse). Darren Helm earned a five-year deal, each of which would pay him close to $4MM, after a 26-point season.
The problem with Vanek, as some would explain, was that he was a perimeter player. He didn't play defense, work hard enough or contribute in different ways. He was one dimensional. Well, who among the group above is two dimensional? Those four combined for 38 points in 2016-17. Vanek scored 48 all by himself.
That's right, his 12th straight 40+ season was to follow after his $2.6MM contract, even with a trade midseason to shake things up. Vanek would net the Detroit Red Wings a third-round pick at the deadline, a neat little asset for paying a relatively paltry sum.
But then, when free agency rolled around again in 2017 Vanek would have to wait. Even with his 48 points, and obvious skills on the powerplay and in the shootout, he would wait all the way until the Vancouver Canucks finally snatched him up in September. You'd think that proving himself still capable would improve the offers, but Vancouver would sign him for just $2MM this time around. The deal came with no performance bonuses, likely because who would doubt he'd hit them at this point.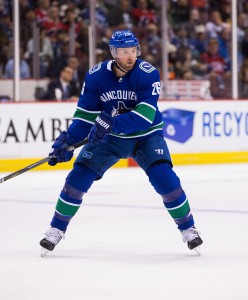 Vanek once again was up to the task, and found instant chemistry with Canucks rookie phenom Brock Boeser. This time, he'd register 41 points by the time the trade deadline came around—his 13th consecutive 40+ if we're still counting—and earning the Canucks a shiny young Tyler Motte. The now 34-year old Vanek would put up 15 points in 19 games for the Columbus Blue Jackets down the stretch, helping them secure their playoff position.
When this July rolls around, Vanek will be an unrestricted free agent once again. He'll be entering the summer as the third-highest scoring free agent forward on the market, behind only John Tavares and David Perron—that's right, ahead of players like Evander Kane, James van Riemsdyk, James Neal, and Paul Stastny—and he still might come with very little risk.
He's obviously not a player that you'd hand out a long-term deal to, not anymore at least. But when one dimensional defense-only players are getting hefty contracts, teams need to start realizing that the opposite is also valuable. Even if he is a coach's nightmare—which he's never been described as by anyone other than outside observers—in the right situations he's still extremely effective. Any team, even a rebuilding one, should be looking at him as an undervalued asset if his price remains low like the last two offseasons. You can bet there will be a team that wants him at the trade deadline again next year—especially if he's in the midst of #14.
Photos courtesy of USA Today Sports Images