The trade deadline has come and gone and not surprisingly, some of the big moves (and non-moves) dominated the questions for this mailbag.
acarneglia: What is your reaction to the Ryan McDonagh trade? On the surface, who was the winner and did the Rangers get a good enough return to justify trading their top D-Man and one of their best young players?
Pawtucket: Why would NYR trade Miller (RFA) for Namestnikov (RFA), when Miller is proven to be versatile on any line and has been a product of the Rangers for many years?
Not surprisingly, the Ryan McDonagh trade to Tampa Bay was the hot topic of the week so let's lead off with that and look at it from a couple of angles.  For starters, I think New York did better here than some are giving them credit for.  The inclusion of Vladislav Namestnikov and J.T. Miller (more on them in a moment) is relatively even so in essence, the Rangers picked up a guaranteed first, a guaranteed second that could become a first, plus a pair of good (not great) prospects for a year and a quarter of McDonagh.  That's far from terrible.
I can understand some disappointment from the perspective that there isn't a real blue-chip piece in that group and they're unlikely to get one from the draft picks.  Given the lack of top prospects that moved at the deadline though, I don't really think there was one out there to be had and that may not have changed in the offseason when it actually becomes a pure rental situation.  This isn't a home run for GM Jeff Gorton but I don't believe it was a fleecing for the Lightning by any stretch either.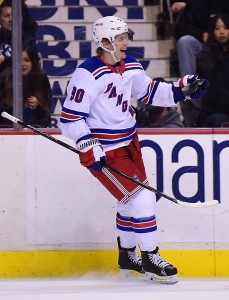 The inclusion of the two forwards in Namestnikov and Miller was a bit of a head-scratcher.  I think it really comes down to a preference for a specific type of player.  Miller is a bit more of an all-around piece that can shuffle into a few different spots so that type of versatility will be useful with the Lightning.  Namestnikov is more of a pure skill player and while that limits how many spots he can fit into a lineup, they may believe the overall upside is a bit greater.  Given that their ages and contractual status are a wash, it probably comes down to each GM thinking the guy they got is a better fit than the one they gave up.  I think Miller, in particular, should fit in quite well with Tampa Bay.
ByeTheNumbers: Which teams were the biggest winners and losers after the deadline? Which players were the biggest winners and losers?
Tampa filled a massive need so it's hard not to put them here.  Having already discussed the trade earlier, I won't add much here but they already had the forward depth and strong goaltending and now their biggest weakness has been addressed in a big way.  Winnipeg also wins by getting a versatile center in Paul Stastny to really help them make a run.  His addition gives them enviable depth down the middle and insurance if one of Mark Scheifele or Bryan Little gets hurt.  Losing a first-rounder hurts a bit but they have the prospect pool to overcome losing that and Stastny should be a great fit there.
In terms of a team that lost, the Islanders immediately come to mind.  They've had goaltending issues all year and did nothing to address that.  Their back end has been struggling considerably and Brandon Davidson isn't going to fix that; he's just another depth option.  (The optics aren't great about them giving up a third-rounder for a player who was a waiver claim not all that long ago but to be fair, their situation health-wise has changed since then).  They also had an opportunity to use some of their extra draft picks to add an important piece to really aid in their postseason push while perhaps helping to entice John Tavares to stick around (or at least help replace him).  They failed on that end as well; adding another physical forward in Chris Wagner to an already-physical fourth line certainly didn't move the needle at all.
As for players that are big winners, McDonagh is an obvious one.  He goes from a situation where the Rangers are in full rebuilding mode to a Tampa Bay squad that's going for the Stanley Cup and he won't have as many responsibilities on his shoulders with Victor Hedman around.  That's a nice spot to be in for him.  Evander Kane getting a shot at a postseason run is also a win for him with free agency on the horizon.  To pick an off the radar player, I'd also suggest Chris Bigras who was flipped to the Rangers in a late trade with Colorado is a winner as well.  He has gone from a quality prospect to somewhat of an afterthought lately and with New York's back end getting blown up, he should get an opportunity to re-establish himself with his new team down the stretch.
On the flip side, Jack Johnson not getting dealt puts him in a tough spot moving forward.  As much as he's saying the right things publicly, this is still a pretty awkward situation to be in where he asked for a trade, the team acquired what looked to be a replacement in Ian Cole, and he still didn't get dealt.  It's hard to imagine that he's happy with the way things played out.
@therealscyie: So the Bruins overpaid highly for Rick Nash, when the Leafs get Tomas Plekanec for a 2nd and two prospects. Plekanec has had more points than Nash in the past three years combined. So my question is did Sweeney get fleeced again on another trade?
I believe Boston overpaid in the Nash trade but not because of what Toronto gave up for Plekanec.  Yes, their point totals over the past three years combined are close but looking at this season and last, it's not exactly close (69 points in 131 games for Nash, 48 in 123 contests for Plekanec).  One is still a top-six player, the other is more of a checker so naturally, Nash was going to yield a better return.
What surprised me was how much the Bruins gave up for someone that isn't a front line upgrade.  Ryan Spooner had been speculated as a change of scenery candidate for a while now but he is still a productive forward with team control (that actually has more points than Nash at the moment in considerably fewer games).  Ryan Lindgren is a decent prospect and they added a first-rounder (albeit a late one) as well.  Considering the price for players like Paul Stastny and Evander Kane, that was a steep price to pay.
The other reason I'm not a big fan of Nash's acquisition from Boston's perspective is their playoff matchups.  If they want to get out of the division, they have to get through Toronto and Tampa Bay, two of the quickest teams in the league.  Nash isn't exactly a speedster and that could come into play through the first couple of rounds.  He's undoubtedly an upgrade for the Bruins but I don't think he was the perfect fit and they certainly paid a high price to get him.
bucsfan: Better deadline move from the Pens: Trading for Brassard or resigning Hornqvist?
Pittsburgh paid a hefty price to add Derick Brassard from Ottawa (via Vegas) and got Patric Hornqvist to re-sign at what could be suggested as a below-market value but I have to say that I think the Brassard addition was the better of the two moves.
Center depth is critical nowadays.  It's great for exploiting certain matchups and on a team that has quality talent on the third line, Brassard immediately gives the Penguins a trio that is capable of really taking advantage of those weaker matchups.  He also gives them insurance if one of Sidney Crosby or Evgeni Malkin go down in that he is a legitimate top-six center if he ever had to move up.  That's invaluable to a contending team (and enviable to everyone else), especially at a $3MM cap hit (with the Golden Knights taking on the other $2MM).  They also got him without taking away much of consequence from their roster although eventually, dealing away their top picks and prospects regularly will come back to bite them.
Hornqvist is a great complementary player for Pittsburgh and in the short-term, they'll certainly benefit from keeping him around.  Their window is this year and next and he'll be able to help them through that time.  However, he's a gritty player with a lot of mileage on him already (over 700 NHL regular season and playoff games) and those types of players don't tend to age well.  He's already 31 so there is a pretty good chance that by the time this deal is up that he will be a shadow of the player he is now.  I think he could have got more on the open market as power forwards are always in high demand but the last year or two of this new deal could be tough.
@Margefro87: What do you think a trade for Erik Karlsson would have to look like from Vegas, from Tampa, and from Washington?
With Tampa Bay adding McDonagh, I think they're out of the Karlsson sweepstakes for good, even in the offseason.  They've moved several picks and prospects already and the Sens aren't going to settle for the 'best of the rest', nor should they when they decide to move a player of his caliber.
Every time I heard Washington mentioned as a suitor for Karlsson, I was skeptical.  With their salary cap situation (both this year and next), it's hard to imagine how they could make it work.  Presumably, Brooks Orpik would have to be involved to offset the cap hits but once you start looking at the future assets, they're a team that is perpetually near the top so the draft picks aren't high and while I like Ilya Samsonov's upside, he's their only real blue-chip prospect and Ottawa just added what they hope is their goalie of the future in the Brassard deal.  They're going to be looking for a top-end piece and unless Washington is willing to move a core youngster off their roster, I don't see a fit.
The idea of Vegas being in on Karlsson both before and after the deadline would have seemed nuts a few months ago but it does make a bit of sense given how well they're doing.  They have the flexibility to take on Bobby Ryan's onerous contract which will certainly be of interest to a budget-conscious Senators team.  While they don't have the most prospect depth given that it's still just their first year, any of their three first-rounders from the last draft would intrigue them while they have some young roster players (such as Shea Theodore and Alex Tuch) that are still young enough to be part of a long-term rebuild.  One of those players, plus one of their previous firsts, and another high draft pick should at least get their foot back in the door for summer talks, especially if they take on Ryan's full contract as part of a swap.
Photo courtesy of USA Today Sports Images.