This edition of the PHR Mailbag takes a look at some impending free agents, early draft projections, a discussion on Alain Vigneault's future with the Rangers, plus what might be on tap for the Blues this summer.
mz90gu: Do you think Kane re-signs with the Sharks?  If so what kind of contract to expect?
Evander Kane is certainly off to a nice start in San Jose although to be fair, a four-goal game does skew the numbers a little bit.  He's a nice fit for them in terms of his playing style and the Sharks certainly have the payroll room to bring him back.  However, I don't think he would priority number one for them.
With Joe Thornton's contract expiring and the fact he's nearing retirement, San Jose's top priority is probably going to be adding some help down the middle.  They're probably going to be in on any top-six center that hits the open market and locking in some long-term stability there is going to be ahead of bringing Kane back (although if he's willing to be patient in free agency for a little bit, they could easily accomplish both).
His next contract is certainly going to be really interesting.  Young players that are power forwards don't become available very often so if one was to look at that alone, it could be suggested that he could easily surpass the $5.25MM he's making now.  However, given the lack of trade interest he had throughout the season, I think some teams may shy away which could make his market considerably less robust.  A short-term deal to rebuild some value (and prove that the off-ice distractions are behind him) could be a way to go and that might come in around a $6MM AAV.  If he gets a long-term deal though, the cap hit may come in a little bit cheaper than that.
@folcaraj: Anything on Jacob Trouba? Will he sign or be dealt?
Trouba's situation back in 2016 was a fascinating one to follow and I think this one could be even more intriguing from a distance.  Heading into this season, many expected that he would have a career year and really dominate.  That just hasn't happened and his injuries don't help either.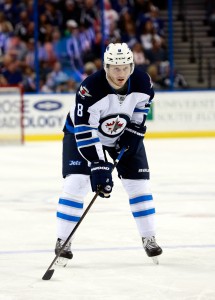 I don't think Winnipeg has much appetite to move him.  Tyler Myers is a UFA after next season and his potential departure provides the top-four role on the right side that Trouba is said to prefer (compared to playing on his off-side).  If their plan is to funnel the savings from Myers' expiring contract towards re-signing the likes of Patrik Laine and Kyle Connor (both restricted free agents next summer), they'll want to keep Trouba as their insurance policy at the very least.
It's often at this point on the service time clock that we really start to see talk of a long-term deal rather than opening up the option to go two years through arbitration and then onto unrestricted free agency.  While I believe the Jets would like to go long-term, their offers are going to be based in large part off of this season so there is likely to be a large gap to bridge once again.  At this stage, my prediction would be that Trouba files for arbitration, Winnipeg elects the one-year term, and then they try to work out a one-year pact for next season.  That will buy them more time to get the long-term deal done or if they're so far apart on money, then they will have the time to find the right trade for him in the summer of 2019.
acarneglia: Are Alain Vigneault's days numbered in New York? Who could be his replacement?
I generally am not a fan of suggesting that teams stick it out with coaches that are struggling and I'm actually pleased that teams have been more patient with their bench bosses this year with no in-season firings.  However, having said that, I would not be surprised if this is it for him.  Unless ownership feels his salary ($4MM next year and $4.25MM in 2019-20) is too high to pay for him not to coach, the time may be right for a change.
With the Rangers heading squarely into a rebuild, having a head coach who is used to working with veteran teams and pushing for contention may not be the best idea.  That would seem to take current assistant Lindy Ruff out of the running.  If their plan is to develop their younger players, their coach should be someone with experience in that regard.  Accordingly, I'd be looking to the AHL level for a potential replacement.
As for who those options could be, Sheldon Keefe in Toronto is going to probably draw some attention.  Dallas Eakins (San Diego) didn't have a good run in Edmonton but he's far from the only coach who struggled with the Oilers and his reputation is that of being someone who can develop prospects.  Keith McCambridge (the Rangers' AHL bench boss) would probably be considered as well.  In terms of assistant coaches in the NHL that could get a look, I'd toss out Davis Payne (Buffalo) and Kevin Dineen (Chicago) as options – both have NHL experience but also have coached with some success at the minor league level in the past.
rowdelicious: Who do you think are the best defense prospects in this year's draft and where are they ranked in the draft?
MrMet19: What could the top 10 in this year's draft look like, and how many players selected early could make an immediate NHL impact?
Blueliner Rasmus Dahlin is the prize prospect of this draft class and is widely expected to go first overall.  He has drawn early comparisons to Ottawa's Erik Karlsson and is believed to be a true franchise player.  As for others that could go early, Adam Boqvist may wind up going in the five to eight range while Noah Dobson, Evan Bouchard, and the undersized but highly skilled Quinn Hughes should go towards the back of the top-ten or before the teens.  All in all, it's a nice top end of the draft for teams looking for help on the back end.
In terms of slotting an early top-ten, Dahlin will go first with scoring wingers Filip Zadina and Andrei Svechnikov going second and third (though they could easily be flipped).  Wingers Brady Tkachuk and Oliver Wahlstrom along with Boqvist make up the next tier that should go in the four-to-six range.  After that, the other three defensemen should slot in fairly quickly and with this being a poor draft for centers and the number of teams in dire need of help down the middle, I wouldn't be shocked if someone reached for Joe Veleno by a few spots either to round out a top-ten.  Lots can change between now and then though as the playoffs at all the junior and college levels approach.
Paul Heyman: Do the Blues buy out Bouwmeester this summer along with maybe some others and maybe try to either sign Stastny again or go after maybe Tavares and some other big names?
The hip injury to Jay Bouwmeester will make it pretty much impossible for St. Louis to buy him out.  The four-to-six month timeline for recovery will make it that he will be injured through the main buyout window in June and injured players cannot be bought out.  A lesser-known second window opens up if a team has multiple arbitration filings but even if the Blues were to have multiple players file, the hearings only run through early August.  Unless Bouwmeester gets the green light before then, he still cannot be bought out.  Even if St. Louis was to try it, it feels like it would be something that Bouwmeester and the NHLPA would try to grieve and they'd probably have a pretty good case.
I could see them trying to bring Paul Stastny back this offseason.  He's not a true number one center anymore but there's no denying he was still a quality player for them before he was dealt to Winnipeg.  I expect John Tavares will be their preferred target but with over $61MM committed already for next season, I'm not sure they'll have the money to sign him, re-sign Joel Edmundson while filling out the rest of the roster, and stay under the salary cap.  Stastny isn't on his level but he'd certainly be a nice consolation prize for St. Louis or for whoever winds up getting him.
Photo courtesy of USA Today Sports Images.