The Montreal Canadiens season has not gone according to plan. Carey Price and Shea Weber have both dealt with injuries all season, and now captain Max Pacioretty has been ruled out for four to six weeks with a knee injury. Pacioretty suffered the injury on Friday night against the New York Islanders after going down awkwardly, and could now miss the remainder of the regular season. Victor Mete, the shining young light in an otherwise unfortunate season, will also be out six weeks with a fractured finger. That puts an end to an encouraging rookie season, that included a gold medal at the World Juniors.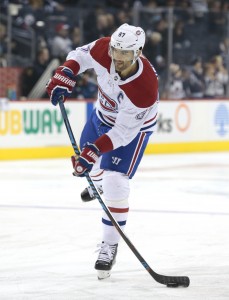 If Pacioretty does miss the rest of the season, it might mean Friday was his final game in a Montreal uniform. Rumored to be on the trade block for some time, if there is no extension talks planned for this summer the Canadiens might be better off moving their captain at the draft for a premium of young assets. Pacioretty will also fail to crack 30 goals for the first time since the lockout shortened 2012-13 season, registering just 17 this year in 64 games. Even with his depressed numbers, Pacioretty should command  a large price on the trade market if he's moved, as he is still a potential 30-goal man that carries just a $4.5MM cap hit for the 2018-19 season.
For Mete, it is a disappointing end to an otherwise impressive start. Though he has recorded just seven points in 49 games, simply making the team straight out of junior was an unexpected accomplishment. The 19-year old was just a fourth-round pick in 2016, but skipped the minor leagues and stuck with Montreal for almost the whole season. Though they allowed him to play for Canada at the World Juniors, injuries forced them to keep him in the NHL afterwards where he has acquitted himself quite well. Though there could potentially be some development time in the AHL when eligible next season—the only option was to return him to the OHL this year—Montreal fans can pencil the young puck-moving defenseman into their lineup for years to come.
Without Pacioretty and Mete, the Montreal lineup looks more and more like an AHL squad trying to keep their heads above water. Sitting 14th in the Eastern Conference, they should have another chance at drafting in the top-5 this June and adding a blue chip prospect to their cupboards.
Photo courtesy of USA Today Sports Images