Eeli Tolvanen was on the ice for the Nashville Predators' morning skate, and has signed his three-year entry-level contract. Tolvanen was allowed out of his KHL contract at the end of their season with the intent on joining the Predators, but it wasn't clear when exactly he would be ready to jump into the lineup.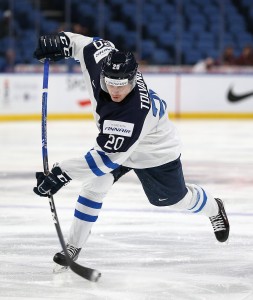 According to Bob McKenzie of TSN, Tolvanen's entry-level deal comes with the maximum bonuses available, something usually reserved for only the very top draft picks like Connor McDavid and Auston Matthews (though also used in other rare circumstances).
The 18-year old phenom fell all the way to 30th in the 2017 draft, but has made quite the impression on the hockey community in less than a year since. By playing in the KHL, World Juniors and Olympics, he's stacked up well against players from all sorts of levels. Now, entering the NHL just in time for what should be a long playoff run, he gives the Predators another offensive weapon to utilize. His shot is already extremely dangerous, and though he can sometimes wait for others to create chances for him, his natural elusiveness can be hard to combat when the puck is on his stick.
Predators Director of Player Personnell Jeff Kealty had this to say in the press release:
The thing that's allowed him to translate and succeed at the men's level as well as he has is that he thinks and executes at a very mature level for his age. It's not just the goals, the assists and his shot, but the little things that he does, like the way he handles the puck and makes the right decisions in all areas of the ice. You always feel like the puck is in good hands when it's on his stick and he's going to make the right play when he has the opportunity.
Nashville is already loaded with offensive players, but Tolvanen could debut this weekend and give them another powerplay option. Though they're certainly no slouches with the man advantage, Nashville's point-shot strategy can be shut down at times and introducing a new weapon like Tolvanen could do damage in the postseason. We'll have wait to see if he can make an impact in the NHL like he has in the KHL.
Adam Vingan of the Tennessean reported that Tolvanen was on the ice this morning, before anyone had announced a contract.